Event
O2 Arena, London, UK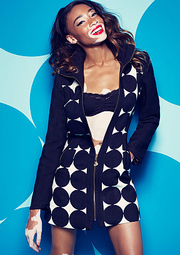 'Remarkable Disruptors' is the theme of the inaugural TEDxTeen London that focuses the conversation on teens and their power to change the world. The motto of the conference is that 'If you're good enough, you're old enough.' There are literally thousands of ambitious teens striving to make their way in this super fast digital world and change it for good, but only few like Chantelle Brown-Young make it to TEDx Teen. 
This top fashion model with vitiligo is possibly the most inspirational person youll see today. And now shes taking the world by storm and inspiring others. Carry on being you, Chantelle!
From the official TEDx Teen website:
'The fashion industry has a new leading lady, who is serving up stunning images and redefining the global definition of beauty. Chantelle, who was diagnosed at age 4 with vitiligo, the skin condition that was made infamous by Michael Jackson, spent her youth bullied and tormented for her differences. Through all of the vocal and often volatile doubters, she believed her 510 frame, modelesque features and internal beauty could see her through to her dreams of becoming an international super model and spokeswomen for others with low self-esteem. At age 16, a local Toronto journalist, Shannon Boodram, discovered Chantelle and shared her story in a YouTube video. The video received over 150k views, as well as features in The Daily Mail and Access Hollywood. Her maturity, beauty and message resonated with fans around the world. Before her 18th birthday, she found herself encouraging people all over the world through her growing social media platforms.
With her emerging success online, the fashion industry began to turn their heads her way as well. Despite being rejected by every single modeling agency in Toronto, designers, photographers and runway directors began to see the beauty that the rest of the world could see. Unrepresented, she was invited to walk in several Fashion Art Toronto shows in 2013. From there, she had several of the citys top photographers clamoring to capture her. Along her unprecedented ride to notoriety, that same year, Americas Next Top Model producers caught wind of Chantelle fever. After being discovered by Tyra Banks, Chantelle was requested to compete in the 21st cycle of Americas Next Top Model. Even though Chantelle was Canadian and visibly had vitiligo, Tyra was ready to make all exceptions necessary to make a lifelong dream come true for this young girl who refused to be held back by her own skin. Cosmopolitan, Access Hollywood, Buzzfeed, The Insider and MTV all agree that Chantelle is the next IT girl, and anyone in the know can safely rest their hopes and dreams in this new face of beauty as well.'
Watch Chantelle as she shares her incredible vitiligo story on October 11, 2014.  TEDxTeen London will stream LIVE from 10:00 a.m. - 5:30 p.m. (GMT) via:
TEDxTeen: www.TEDxTeen.com
O2 ThinkBig: www.O2thinkbig.co.uk/livestream
MTV Act: www.act.mtv.com
MTV Voices: www.mtvvoices.com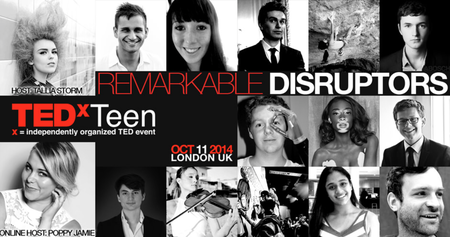 Learn more about Chantelle:
chantellewinnie.com
twitter.com/winnieharlow
instagram.com/winnieharlow
Photo credits: Desigual (top right).  TEDxTeen (above)