Event
Atlanta, Georgia. USA
Learn how to use emotional intelligence to liberate your authentic power, creativity and happiness.

Speakers include: 
Siman, conference host
Jeremy Mincey, celebrity co-host
Dr. Richard Huggins, dermatologist
Dr. Tabia Akintobi, Director Morehouse School of Medicine
Perry Whaley, Vitiligo Bond spokesperson
Tanesha Brown, Vit Queen, guest speaker
Tiffanie Wiley, guest speaker
Marlene Glenn, guest speaker
Jordi Unique, youth model
Londee Thomas, musical artist.
Event organized and hosted by Vitiligo Bond in Atlanta, GA.
Details, payment and registration: bethetrueyou.eventbrite.com or call 404-997-2201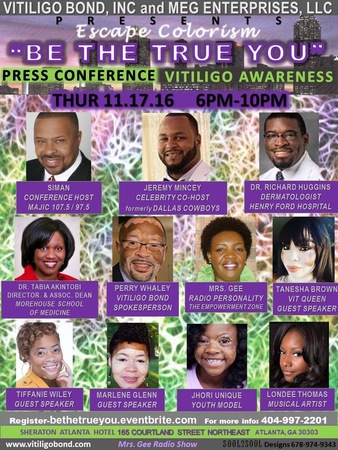 Can Ayurveda help with vitiligo?

People have used herbs and natural remedies to treat skin conditions for centuries. Vitiligo is an auto-immune condition that causes white patches of skin to develop and expand...

Can chemicals cause vitiligo?

It's important to remember there are multiple factors involved in vitiligo onset, including genetic predisposition, living and working environments, and exposure to certain chem...

What is vitiligo?

Vitiligo (pronounced vit-ill-EYE-go) is a relatively common skin disease characterized by smooth, white, painless spots or patches on various parts of the body and hairs above i...