Event
Atlanta, Georgia. USA
Learn how to use emotional intelligence to liberate your authentic power, creativity and happiness.

Speakers include: 
Siman, conference host
Jeremy Mincey, celebrity co-host
Dr. Richard Huggins, dermatologist
Dr. Tabia Akintobi, Director Morehouse School of Medicine
Perry Whaley, Vitiligo Bond spokesperson
Tanesha Brown, Vit Queen, guest speaker
Tiffanie Wiley, guest speaker
Marlene Glenn, guest speaker
Jordi Unique, youth model
Londee Thomas, musical artist.
Event organized and hosted by Vitiligo Bond in Atlanta, GA.
Details, payment and registration: bethetrueyou.eventbrite.com or call 404-997-2201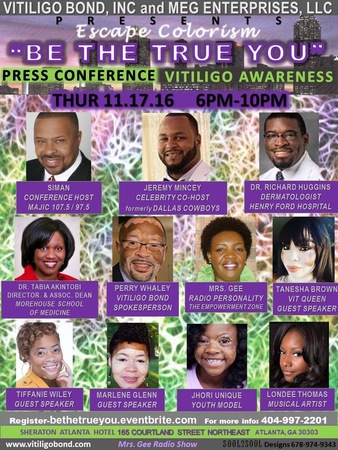 Is vitiligo contagious?

Vitiligo is NOT contagious. It cannot be passed on or caught from touching someone with vitiligo, shaking hands, swimming in the same pool, sharing towels, sitting next to someo...

Is there a special diet for vitiligo?

We have specifically looked into claims that some food supplements or special diet may ease symptoms of vitiligo, or completely reverse it, and found no firm scientific evidence...

Isn't it just a cosmetic disorder?

Contrary to popular belief, vitiligo is not a cosmetic disorder but a systemic disease affecting the largest body organ and other vital systems. For more than 1.6 million peop...