Event
Atlanta, Georgia. USA
Learn how to use emotional intelligence to liberate your authentic power, creativity and happiness.

Speakers include: 
Siman, conference host
Jeremy Mincey, celebrity co-host
Dr. Richard Huggins, dermatologist
Dr. Tabia Akintobi, Director Morehouse School of Medicine
Perry Whaley, Vitiligo Bond spokesperson
Tanesha Brown, Vit Queen, guest speaker
Tiffanie Wiley, guest speaker
Marlene Glenn, guest speaker
Jordi Unique, youth model
Londee Thomas, musical artist.
Event organized and hosted by Vitiligo Bond in Atlanta, GA.
Details, payment and registration: bethetrueyou.eventbrite.com or call 404-997-2201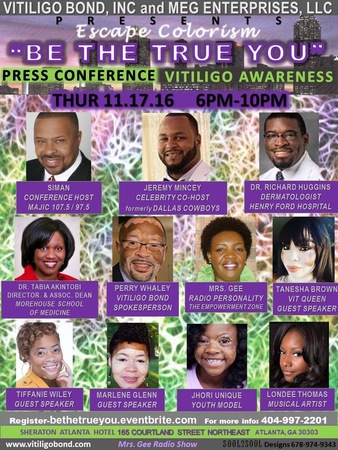 Is there a special diet for vitiligo?

In short, no.  Some people find that certain foods may worsen their vitiligo symptoms or that others may improve their skin condition. We found no scientific evidence that a sp...

Vitiligo and hearing loss: any connection?

In short, NO. Recent research shows no relationship between a degree of skin depigmentation and hearing loss severity in vitiligo patients. The results of this study showed tha...

Are there any famous people with vitiligo?

Many celebrities have dealt with vitiligo while remaining in the public eye, maintaining a positive outlook, and having a successful career. Here are a few courageous famous peo...