Event
Atlanta, Georgia. USA
Learn how to use emotional intelligence to liberate your authentic power, creativity and happiness.

Speakers include: 
Siman, conference host
Jeremy Mincey, celebrity co-host
Dr. Richard Huggins, dermatologist
Dr. Tabia Akintobi, Director Morehouse School of Medicine
Perry Whaley, Vitiligo Bond spokesperson
Tanesha Brown, Vit Queen, guest speaker
Tiffanie Wiley, guest speaker
Marlene Glenn, guest speaker
Jordi Unique, youth model
Londee Thomas, musical artist.
Event organized and hosted by Vitiligo Bond in Atlanta, GA.
Details, payment and registration: bethetrueyou.eventbrite.com or call 404-997-2201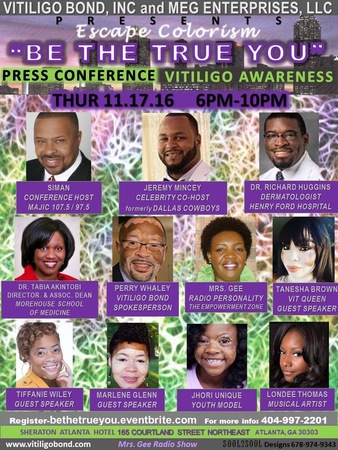 How can I explain vitiligo to my children?

Vitiligo can be puzzling for a child because a person who has it isn't "ill" in a common sense.  To choose the right words to explain vitiligo diagnosis to a child, first consi...

Is vitiligo contagious?

Vitiligo is NOT contagious. It cannot be passed on or caught from touching someone with vitiligo, shaking hands, swimming in the same pool, sharing towels, sitting next to someo...

Will it spread?

Vitiligo activity may vary considerably from person to person. The natural course of vitiligo is truly unpredictable but usually progressive. The most recent VALIANT study on v...