Event
MAI 3680 Rue Jeanne-Mance Montreal, Quebec, Canada
Take part in a photo shoot with Stephanie Corne, an incredible artist from NYC and vitiligo activist, to be included in the Facemotions portrait Gallery of Vitiligo. Project is presented by the MAI (Montreal, Arts Interculturels) and Vitiligo Montreal-Quebec group. Free admission. 
Where and when: MAI 3680 Rue Jeanne-Mance Montreal, Quebec, Canada. November 14, 2014, from 9 am to 2 pm.
A roundtable discussion Living With Vitiligo will be held from 3 pm to 5 pm, to discuss the project, share great stories with vitiligo community and have lots of fun. 
For more information contact vitiligomtlqc@gmail.com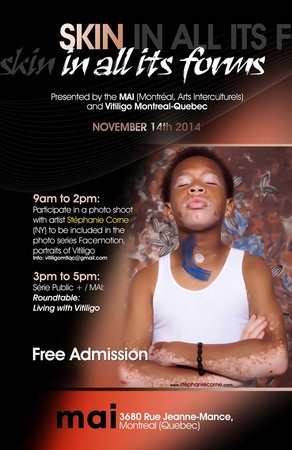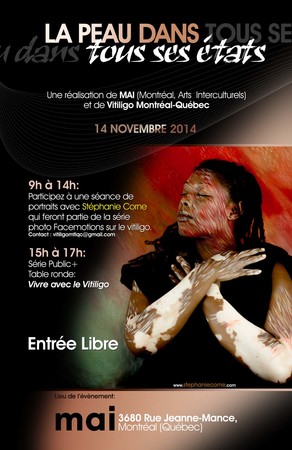 Will it spread?

Vitiligo activity may vary considerably from person to person. In a good number of patients the disease goes on for 3-4 years and then it settles down, with one or two stubborn...

Isn't it just a cosmetic disorder?

Contrary to popular belief, vitiligo is not a cosmetic disorder but a systemic disease affecting the largest body organ and other vital systems. For more than 1.6 million peop...