Event
MAI 3680 Rue Jeanne-Mance Montreal, Quebec, Canada
Take part in a photo shoot with Stephanie Corne, an incredible artist from NYC and vitiligo activist, to be included in the Facemotions portrait Gallery of Vitiligo. Project is presented by the MAI (Montreal, Arts Interculturels) and Vitiligo Montreal-Quebec group. Free admission. 
Where and when: MAI 3680 Rue Jeanne-Mance Montreal, Quebec, Canada. November 14, 2014, from 9 am to 2 pm.
A roundtable discussion Living With Vitiligo will be held from 3 pm to 5 pm, to discuss the project, share great stories with vitiligo community and have lots of fun. 
For more information contact vitiligomtlqc@gmail.com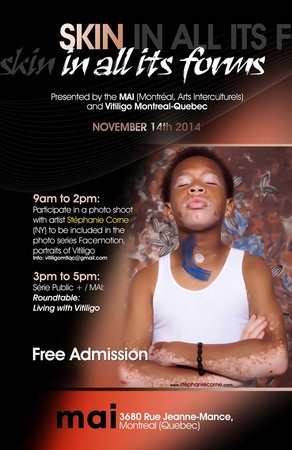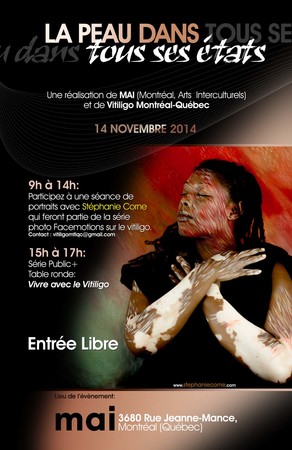 What tests should be done?

A well-trained dermatologist should be able to diagnose vitiligo and distinguish it from contact leukoderma or more than twenty other conditions with similar skin appearance bas...

Are there any famous people with vitiligo?

Many celebrities have dealt with vitiligo while remaining in the public eye, maintaining a positive outlook, and having a successful career. Here are a few courageous famous peo...

How long does it take to treat vitiligo?

Treatment results will vary by person and type of vitiligo. The rule of thumb is that you will need to allow at least 3 to 6 months before you begin to see results from any trea...