Event
MAI 3680 Rue Jeanne-Mance Montreal, Quebec, Canada
Take part in a photo shoot with Stephanie Corne, an incredible artist from NYC and vitiligo activist, to be included in the Facemotions portrait Gallery of Vitiligo. Project is presented by the MAI (Montreal, Arts Interculturels) and Vitiligo Montreal-Quebec group. Free admission. 
Where and when: MAI 3680 Rue Jeanne-Mance Montreal, Quebec, Canada. November 14, 2014, from 9 am to 2 pm.
A roundtable discussion Living With Vitiligo will be held from 3 pm to 5 pm, to discuss the project, share great stories with vitiligo community and have lots of fun. 
For more information contact vitiligomtlqc@gmail.com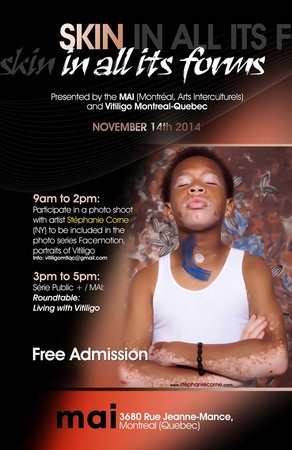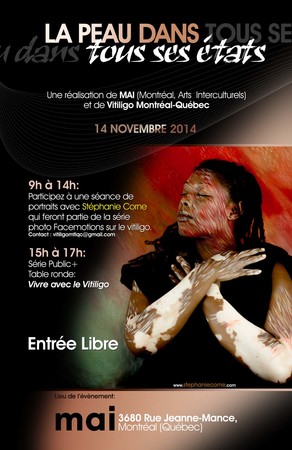 Does halo nevi affect vitiligo development?

Halo nevi — nevi with an depigmented circle around it, usually on the trunk — are about 10x more common in vitiligo patients than in the general population, especially in childr...

What tests should be done?

A well-trained dermatologist should be able to diagnose vitiligo and distinguish it from contact leukoderma or more than twenty other conditions with similar skin appearance bas...

Vitiligo and hearing loss: any connection?

In short, NO. Recent research shows no relationship between a degree of skin depigmentation and hearing loss severity in vitiligo patients. The results of this study showed tha...