Event
MAI 3680 Rue Jeanne-Mance Montreal, Quebec, Canada
Take part in a photo shoot with Stephanie Corne, an incredible artist from NYC and vitiligo activist, to be included in the Facemotions portrait Gallery of Vitiligo. Project is presented by the MAI (Montreal, Arts Interculturels) and Vitiligo Montreal-Quebec group. Free admission. 
Where and when: MAI 3680 Rue Jeanne-Mance Montreal, Quebec, Canada. November 14, 2014, from 9 am to 2 pm.
A roundtable discussion Living With Vitiligo will be held from 3 pm to 5 pm, to discuss the project, share great stories with vitiligo community and have lots of fun. 
For more information contact vitiligomtlqc@gmail.com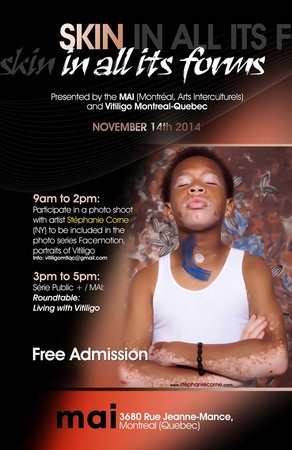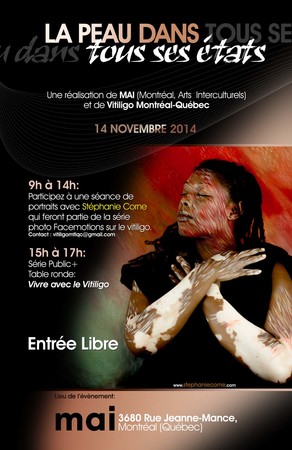 What is vitiligo?

 Vitiligo (pronounced vit-ill-EYE-go) is a generally unpredictable skin disease that causes a gradual loss of skin color and overlying hair on different parts of the body. Cont...

Will it spread?

Vitiligo activity may vary considerably from person to person. The natural course of vitiligo is truly unpredictable but usually progressive. The most recent VALIANT study on v...

How can I cure vitiligo?

There is no cure for vitiligo, but there are a number of effective treatment options that can be discussed with your GP or dermatologist. The aim of treatment is to stop new pat...