Event
NYU's Ambulatory Care Center at 240 East 38th Street, New York, USA
will be on Thursday, February 8th, from 7PM - 8:30PM
on the 11th floor of NYU's Ambulatory Care Center at 240 East 38th Street, between 2nd and 3rd Avenue
Since this is our first meeting of the year, we will provide an overview of our New York Vitiligo Community Group. Additionally, there will be a research update about a treatment for vitiligo: vitiligo surgery!
Please let us know if you will be able to attend the meeting by email nyvitiligo@gmail.com
NY Vitiligo Community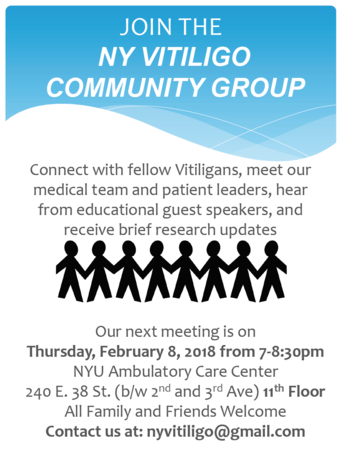 Will it spread?

Vitiligo activity may vary considerably from person to person. In a good number of patients the disease goes on for 3-4 years and then it settles down, with one or two stubborn...

What tests should be done?

A well-trained dermatologist should be able to diagnose vitiligo and distinguish it from contact leukoderma or more than twenty other conditions with similar skin appearance bas...