will be on Thursday, February 8th, from 7PM - 8:30PM
on the 11th floor of NYU's Ambulatory Care Center at 240 East 38th Street, between 2nd and 3rd Avenue
Since this is our first meeting of the year, we will provide an overview of our New York Vitiligo Community Group. Additionally, there will be a research update about a treatment for vitiligo: vitiligo surgery!
Please let us know if you will be able to attend the meeting by email nyvitiligo@gmail.com
NY Vitiligo Community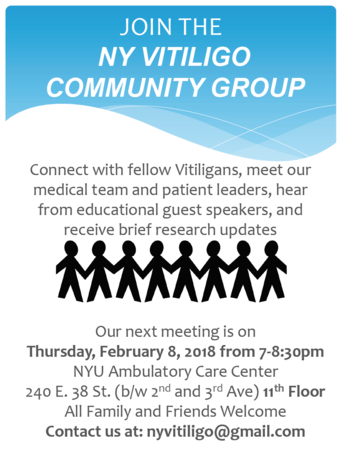 Is vitiligo contagious?

Vitiligo is NOT contagious. It cannot be passed on or caught from touching someone with vitiligo, shaking hands, swimming in the same pool, sharing towels, sitting next to someo...

How can I cure vitiligo?

There is no cure for vitiligo, but there are a number of effective treatment options that can be discussed with your GP or dermatologist. The aim of treatment is to stop new pat...