NYU's Ambulatory Care Center at 240 East 38th Street, New York, USA
will be on Thursday, February 8th, from 7PM - 8:30PM
on the 11th floor of NYU's Ambulatory Care Center at 240 East 38th Street, between 2nd and 3rd Avenue
Since this is our first meeting of the year, we will provide an overview of our New York Vitiligo Community Group. Additionally, there will be a research update about a treatment for vitiligo: vitiligo surgery!
Please let us know if you will be able to attend the meeting by email nyvitiligo@gmail.com
NY Vitiligo Community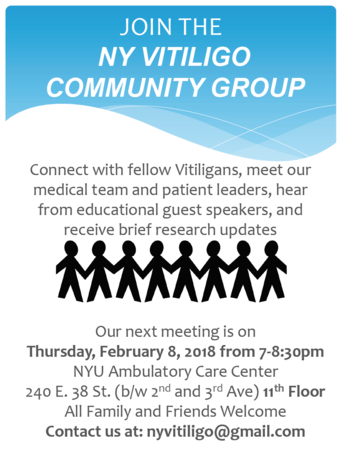 Who is prone to vitiligo?

Scientists know that some people are genetically predisposed to a specific group of autoimmune diseases – including generalized vitiligo – but do not know who and why.It doesn't...

How long does it take to treat vitiligo?

Treatment results will vary by person and type of vitiligo. The rule of thumb is that you will need to allow at least 3 to 6 months before you begin to see results from any trea...

What's better: laser or phototherapy?

In a recent study researchers assessed effect and safety of different laser and phototherapy treatments, such as excimer laser/light, narrowband UVB, UVA and PUVA. No significa...