Event
NYU's Ambulatory Care Center at 240 East 38th Street, New York, USA
will be on Thursday, February 8th, from 7PM - 8:30PM
on the 11th floor of NYU's Ambulatory Care Center at 240 East 38th Street, between 2nd and 3rd Avenue
Since this is our first meeting of the year, we will provide an overview of our New York Vitiligo Community Group. Additionally, there will be a research update about a treatment for vitiligo: vitiligo surgery!
Please let us know if you will be able to attend the meeting by email nyvitiligo@gmail.com
NY Vitiligo Community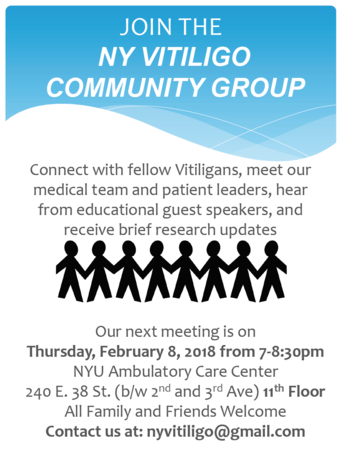 Does halo nevi affect vitiligo development?

Halo nevi — nevi with an depigmented circle around it, usually on the trunk — are about 10x more common in vitiligo patients than in the general population, especially in childr...

Isn't it just a cosmetic disorder?

Contrary to popular belief, vitiligo is not a cosmetic disorder but a systemic disease affecting the largest body organ and other vital systems, with multiple comorbidities. Fo...

Vitiligo and hearing loss: any connection?

In short, NO. Recent research shows no relationship between a degree of skin depigmentation and hearing loss severity in vitiligo patients. The results of this study showed tha...