Event
240 East 38th Street, New York, NY
Our next meeting will be after the World Vitiligo Day conference in Detroit on Thursday, July 20th, 2017, at 7PM - 8:30PM on the 11th floor of NYU's Ambulatory Care Center at 240 East 38th Street, between 2nd and 3rd Avenues!
Dermablend, a company that specializes in camouflage cosmetic products, will be coming to talk at the meeting. Attendees will be able to learn and ask questions about their different products.
Spread the word! And as always, all family and friends are welcome!
Please let us know if you will be able to attend the meeting at nyvitiligo@gmail.com
We look forward to seeing you all there.
NY Vitiligo Community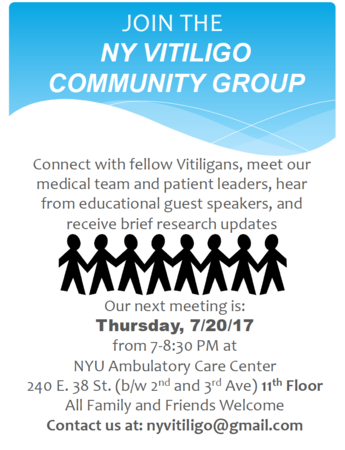 What causes vitiligo?

Surprisingly, the causes of vitiligo are yet to be precisely established. Researchers know the cause is pre-wired in your genes, just waiting for a bad luck moment. In about hal...

Is there a special diet for vitiligo?

In short, no.  Some people find that certain foods may worsen their vitiligo symptoms or that others may improve their skin condition. We found no scientific evidence that a sp...

Can a gluten-free diet help with vitiligo?

It's very unlikely. We have specifically looked into claims that gluten-free diet may ease symptoms of vitiligo, or completely reverse it, and found no firm scientific evidence ...