Event
240 East 38th Street, New York, NY
Our next meeting will be after the World Vitiligo Day conference in Detroit on Thursday, July 20th, 2017, at 7PM - 8:30PM on the 11th floor of NYU's Ambulatory Care Center at 240 East 38th Street, between 2nd and 3rd Avenues!
Dermablend, a company that specializes in camouflage cosmetic products, will be coming to talk at the meeting. Attendees will be able to learn and ask questions about their different products.
Spread the word! And as always, all family and friends are welcome!
Please let us know if you will be able to attend the meeting at nyvitiligo@gmail.com
We look forward to seeing you all there.
NY Vitiligo Community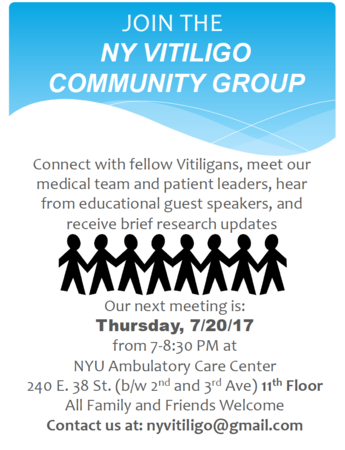 Will it spread?

Vitiligo activity may vary considerably from person to person. The natural course of vitiligo is truly unpredictable but usually progressive. The most recent VALIANT study on v...

Does halo nevi affect vitiligo development?

Halo nevi — nevi with an depigmented circle around it, usually on the trunk — are about 10x more common in vitiligo patients than in the general population, especially in childr...