Event
373 West 46 st. New York, NY
We hope you are all having a delightful start to the Holiday season. We are excited to invite you all to the New York Vitiligo Community Holiday Dinner, which will be held on Friday, December 16, from 6.15 to 7.45 pm.
Please join our patient leaders, Shazaad Games, Patricia Rossy, and Tiffany Grant, as well as other members in what promises to be an enjoyable outing. Dinner is only $25 per person.
Address: Hourglass Tavern, 373 West 46 st. New York, NY
Please RSVP to nyvitiligo@gmail.com by Tuesday, December 13 if you plan on attending!
Best,
New York Vitiligo Community
Facebook.com/nyvitiligo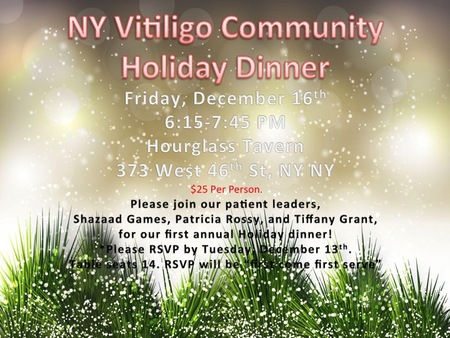 Isn't it just a cosmetic disorder?

Contrary to popular belief, vitiligo is not a cosmetic disorder but a systemic disease affecting the largest body organ and other vital systems. For more than 1.6 million peop...

Is there a special diet for vitiligo?

We have specifically looked into claims that some food supplements or special diet may ease symptoms of vitiligo, or completely reverse it, and found no firm scientific evidence...