Event
373 West 46 st. New York, NY
We hope you are all having a delightful start to the Holiday season. We are excited to invite you all to the New York Vitiligo Community Holiday Dinner, which will be held on Friday, December 16, from 6.15 to 7.45 pm.
Please join our patient leaders, Shazaad Games, Patricia Rossy, and Tiffany Grant, as well as other members in what promises to be an enjoyable outing. Dinner is only $25 per person.
Address: Hourglass Tavern, 373 West 46 st. New York, NY
Please RSVP to nyvitiligo@gmail.com by Tuesday, December 13 if you plan on attending!
Best,
New York Vitiligo Community
Facebook.com/nyvitiligo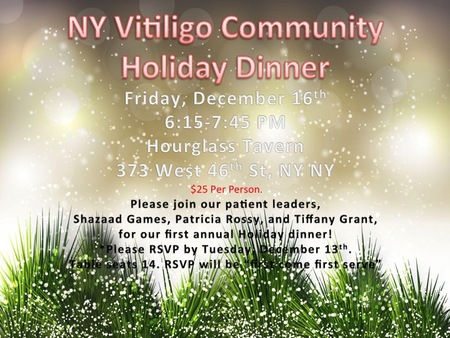 Does halo nevi affect vitiligo development?

Halo nevi — nevi with an depigmented circle around it, usually on the trunk — are about 10x more common in vitiligo patients than in the general population, especially in childr...

What tests should be done?

A well-trained dermatologist should be able to diagnose vitiligo and distinguish it from contact leukoderma or more than twenty other conditions with similar skin appearance bas...