Event
373 West 46 st. New York, NY
We hope you are all having a delightful start to the Holiday season. We are excited to invite you all to the New York Vitiligo Community Holiday Dinner, which will be held on Friday, December 16, from 6.15 to 7.45 pm.
Please join our patient leaders, Shazaad Games, Patricia Rossy, and Tiffany Grant, as well as other members in what promises to be an enjoyable outing. Dinner is only $25 per person.
Address: Hourglass Tavern, 373 West 46 st. New York, NY
Please RSVP to nyvitiligo@gmail.com by Tuesday, December 13 if you plan on attending!
Best,
New York Vitiligo Community
Facebook.com/nyvitiligo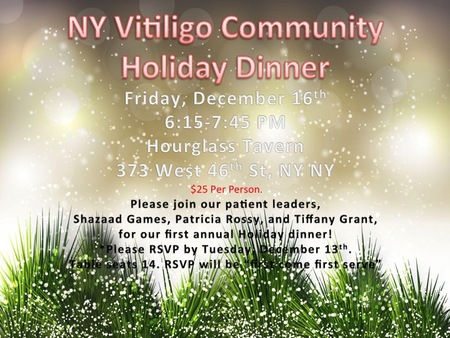 How can I explain vitiligo to my children?

Vitiligo can be puzzling for a child because a person who has it isn't "ill" in a common sense.  To choose the right words to explain vitiligo diagnosis to a child, first consi...

Does halo nevi affect vitiligo development?

Halo nevi — nevi with an depigmented circle around it, usually on the trunk — are about 10x more common in vitiligo patients than in the general population, especially in childr...

How long does it take to treat vitiligo?

Treatment results will vary by person and type of vitiligo. The rule of thumb is that you will need to allow at least 3 to 6 months before you begin to see results from any trea...