Event
373 West 46 st. New York, NY
We hope you are all having a delightful start to the Holiday season. We are excited to invite you all to the New York Vitiligo Community Holiday Dinner, which will be held on Friday, December 16, from 6.15 to 7.45 pm.
Please join our patient leaders, Shazaad Games, Patricia Rossy, and Tiffany Grant, as well as other members in what promises to be an enjoyable outing. Dinner is only $25 per person.
Address: Hourglass Tavern, 373 West 46 st. New York, NY
Please RSVP to nyvitiligo@gmail.com by Tuesday, December 13 if you plan on attending!
Best,
New York Vitiligo Community
Facebook.com/nyvitiligo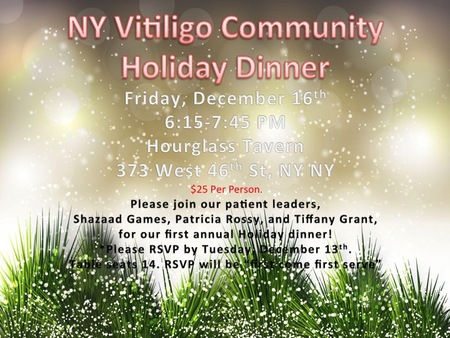 Is vitiligo contagious?

Vitiligo is NOT contagious. It cannot be passed on or caught from touching someone with vitiligo, shaking hands, swimming in the same pool, sharing towels, sitting next to someo...

What causes vitiligo?

Surprisingly, the causes of vitiligo are yet to be precisely established. Researchers know the cause is pre-wired in your genes, just waiting for a bad luck moment. In about hal...

Are there any famous people with vitiligo?

Many celebrities have dealt with vitiligo while remaining in the public eye, maintaining a positive outlook, and having a successful career. Here are a few courageous famous peo...