Event
Pier 94 in New York City, NY
When Winnie Harlow hits the Victoria's Secret runway at Pier 94 in New York City on Nov. 8, 2018, she'll make history. Every year, the Victoria's Secret show brings its famous Angels together for a glittery catwalk extravaganza. It's the most-watched fashion event of the year. For the first time ever, Victoria's Secret is featuring a model with vitiligo.
A Toronto native, Winnie Harlow - born as Chantelle Brown-Young in 1994 - was diagnosed with vitiligo around the age of four. She suffered from bullying and discrimination through her teen years, changing schools and grappling with thoughts of suicide. After heading in the wrong direction with the wrong company for a while, Winnie realised that changing herself is the only way to change her destiny. So instead of blaming vitiligo for her hardships, Winnie embraced her flaws and cut off the negative people who surrounded her.
Only seven years ago Harlow was meticulously arranging and re-arranging a variety of women's underwear at La Senza, Canadian lingerie chain store. With her new attitude, she soon discovered that the world wasn't such a harsh place, after all. Winnie first openly talked about her skin condition in a 5-minute YouTube video Vitiligo: A Skin Condition not a Life Changer back in 2011, saying 'People have black skin, people have brown skin, and I have both.'
New opportunities soon started flowing her way. Winnie's first manager Kyle Reid arranged photo shoots and magazine spreads, making her a runway regular and eventually pawing her way to stardom. Noticed by supermodel Tyra Banks a couple years later, Harlow starred in Cycle 21 of "America's Next Top Model" in 2014. Although she didn't make it through the finals, Winnie has seen immeasurable success since then. She landed campaigns with Desigual, Diesel, Swarovski, Covergirl, to name just a few, and apperaed in Beyoncé's visual album Lemonade. As the first model with vitiligo to join Victoria Secret's cast of Angels, Winne has now officially nabbed the hottest gig in the business.
Being cast for the iconic global event marks a new milestone for Winnie. Her appearance at one of the most anticipated fashion events tonight is a step toward diversifying a runway that's been notoriously limited in its representation of beauty. Dodging the question about her vitiligo in an interview to ET Canada, Winnie says, "I'm proud to be a trailblazer, ... I got to represent for black women, Canadian women, Jamaican women, and it's really amazing to me." Serving as an outspoken role model, she is also promoting awareness and self-acceptance to her 4.9 million Instagram followers and the entire world.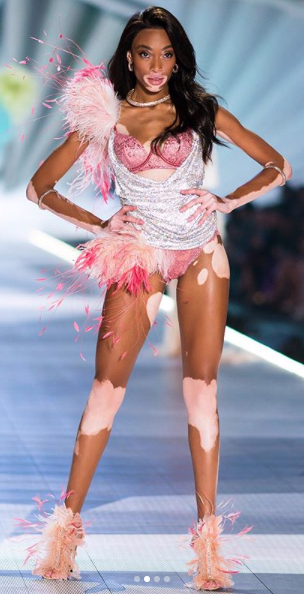 Image source: Winnie Harlow Instagram
Are there any famous people with vitiligo?

Many celebrities have dealt with vitiligo while remaining in the public eye, maintaining a positive outlook, and having a successful career. Here are a few courageous famous peo...

How can I explain vitiligo to my children?

Vitiligo can be puzzling for a child because a person who has it isn't "ill" in a common sense.  To choose the right words to explain vitiligo diagnosis to a child, first consi...