Event
Sugar Land Marriott Town Square 16090 City Walk, Sugar Land, Texas 77479
June 21-23. US-based members of the vitiligo community are invited to meet in Houston, TX, for a conference organized by Houston Vitiligo Awareness Movement, led by its founder Diane Tribitt. The national theme is "The Mental and Medical Journey of Living with Vitiligo - The Journey Starts with ME!"
Registration deadline is May 15th, so don't wait until the last moment to reserve your spot and a conference bag! Registration fee will cover the cost of conference sessions, materials, meals, and gift bag.
$135 – Adults (18-years and older)
$100 – Teens (13-17 years old)
$65 – Children (12-years and younger)
The conference will be held at the Sugar Land Marriott Town Square, which is surrounded by a variety of eateries, shopping, and other activities for your enjoyment. The room rate is only $125.00 so you can book your room using the website above or by calling 1-281-275-5978 / 1-800-228-9290 and using rate codes WVDWVDA (Standard King) or WVDWVDB (Double/Double).
If you have already registered for the conference, get ready for an inspiring and informative weekend.
World Vitiligo Day USA 2019 conference speakers include:
Dr. Amit Pandya - UT Southwestern Medical Center
Dr. Alanna Bree - A Children's House for the Soul
Dr. Pearl Grimes - The Vitiligo & Pigmentation Institute of Southern California
Dr. Lisa Schuster - Children's Health
Dr. John Harris - The Vitiligo Clinic & Research Center at UMMS
Conference sessions will cover various subjects, such as:
New Research Discoveries
Treatment of Vitiligo
Coping / After the Diagnosis
Addressing the Physical, Social, Emotional, and Spiritual Wellbeing of Children with Vitiligo
Vitiligo and Social Acceptance
There will also be two dedicated sessions:
V-Talk After Dark: SURVIVORS (Women only)
V-Talk After Dark: Iron Sharpens Iron (Men only)
held on Friday evening which will provide an opportunity for you to hear and share personal experiences of living with vitiligo. These are conversations with others who understand your plight. Remember: YOU ARE NOT ALONE!
Organizers will also be holding a Community Forum providing an opportunity to have open dialogue with the public; sharing our stories and addressing common misconceptions that both sides have as it relates to Vitiligo. The goal of the forum is to bridge the gap between both groups and help educate while raising awareness. The forum will be moderated by:
Lee Thomas - Author, Emmy award winning entertainment reporter for Fox 2 News in Detroit, Michigan
Erika Page - Founder of Living Dappled (lifestyle blog)
Don't forget there will be kids&teens sessions designed just for them featuring Erik Cork (Cork's Coast-to-Coast Classroom) and Dr. Chad Brandt (Behavior Therapist) who will provide them with personal tool kits and coping skills which they can use for school. They will also enjoy activities (i.e. movies, pajama jam) where they will have the opportunity to intermingle with kids who understand what it feels like to live with Vitiligo.
Finally, organizers planned a special entertainment and they're taking it to another level, so bring your Texas gear (i.e. cowboy boots, hats, etc.) because the kickoff on Friday, June 21st will be one you won't forget. On Saturday, June 22nd, a DJ, band, and spoken word artist will culminate the last night of the conference. To close out the conference on Sunday, we will start the day with a Worship Service (attendance is optional) lead by Dr. Wallace Henry and Dr. Perry Riley. We'll also have a special guest and announce the location/host for the 2020 World Vitiligo Day Conference.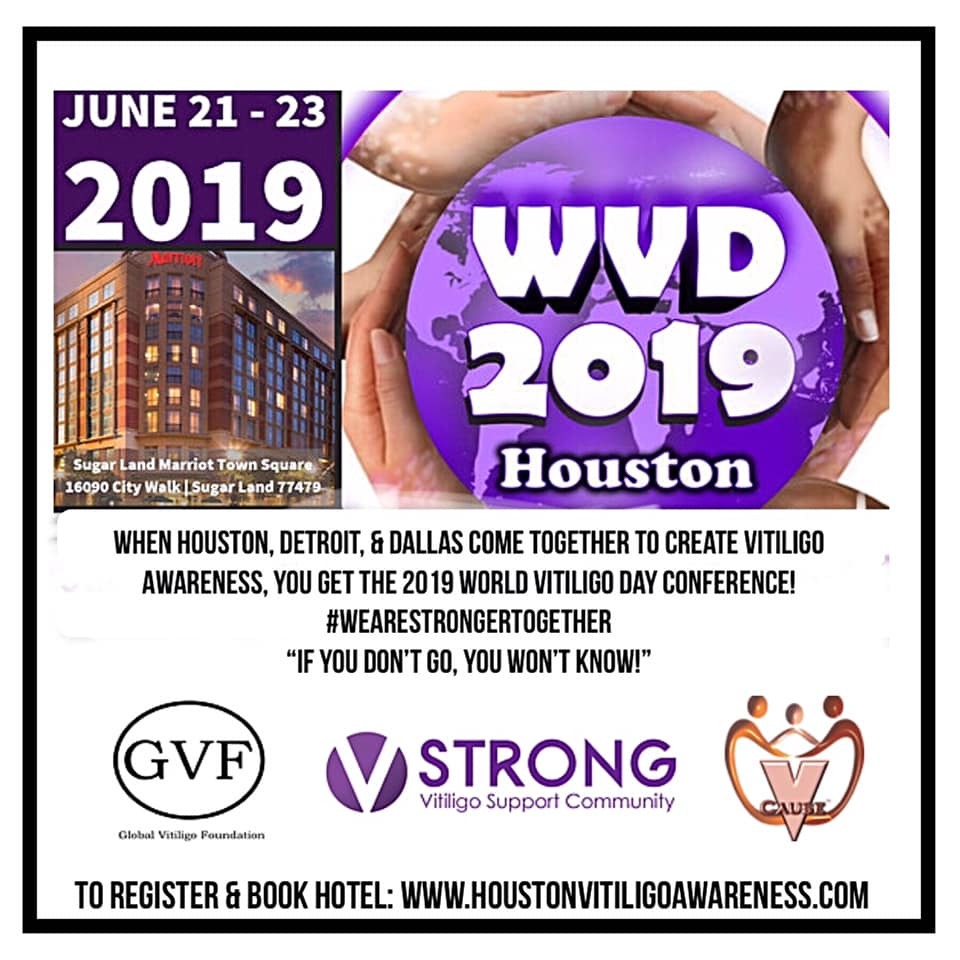 What is vitiligo?

 Vitiligo (pronounced vit-ill-EYE-go) is a generally unpredictable skin disease that causes a gradual loss of skin color and overlying hair on different parts of the body. Cont...

Shall I take vitamin D for my vitiligo?

In Brief Vitamin D plays a central role in the prevention of different inflammatory and chronic diseases. Consuming 1,000–4,000 IU (25–100 mcg) of vitamin D3 daily should be id...

Is it Bitiligo? Vitaligo? Veteligo?

There are so many different ways that people try and spell or even pronounce Vitiligo.  Here are some common mis-spellings: bitiligo, vitigo, vitaligo, vitilago, vitiglio, vita...