New
Chantelle Brown-Young,  vibrant fashion model from Canada, vitiligo spokesperson, aspiring journalist and TV host, is making history in the latest installment of the popular reality TV show America's Next Top Model that will air this August. Chantelle, who models under the name Winnie Harlow, is also the first ever show finalist with vitiligo. Read full story by Janet Chin, HighOnTunes Media (link)
Visit www.cwtv.com/thecw/antmvoting today, on March 28, and April 1, 2014 to cast your vote for Chantelle and to show your support for this awesome young woman.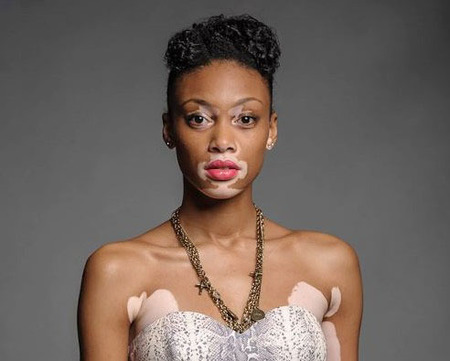 Vitiligo and hearing loss: any connection?

In short, NO. Recent research shows no relationship between a degree of skin depigmentation and hearing loss severity in vitiligo patients. The results of this study showed tha...

Are there any famous people with vitiligo?

Many celebrities have dealt with vitiligo while remaining in the public eye, maintaining a positive outlook, and having a successful career. Here are a few courageous famous peo...

What causes vitiligo?

Surprisingly, the causes of vitiligo are yet to be precisely established. Researchers know the cause is pre-wired in your genes, just waiting for a bad luck moment. In about hal...