New
Chantelle Brown-Young,  vibrant fashion model from Canada, vitiligo spokesperson, aspiring journalist and TV host, is making history in the latest installment of the popular reality TV show America's Next Top Model that will air this August. Chantelle, who models under the name Winnie Harlow, is also the first ever show finalist with vitiligo. Read full story by Janet Chin, HighOnTunes Media (link)
Visit www.cwtv.com/thecw/antmvoting today, on March 28, and April 1, 2014 to cast your vote for Chantelle and to show your support for this awesome young woman.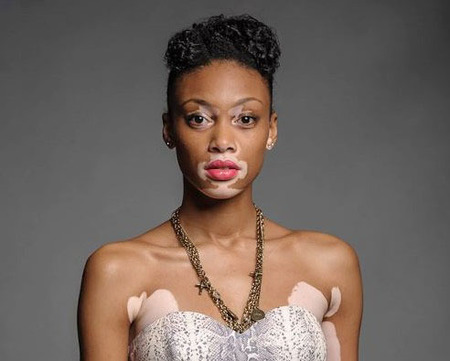 Who is prone to vitiligo?

Scientists know that some people are genetically predisposed to a specific group of autoimmune diseases – including generalized vitiligo – but do not know who and why.It doesn't...

Isn't it just a cosmetic disorder?

Contrary to popular belief, vitiligo is not a cosmetic disorder but a systemic disease affecting the largest body organ and other vital systems, with multiple comorbidities. Fo...

Is there a special diet for vitiligo?

In short, no.  Some people find that certain foods may worsen their vitiligo symptoms or that others may improve their skin condition. We found no scientific evidence that a sp...