New
A strong and well-funded Vitiligo Center would make a word of difference, as we discussed recently with President of VR Foundation, Mr. Dmitry Aksenov, and VITFriends founder Valarie Molyneaux and Barbara Hamilton in Boston. 
A week before, Prof. Agharid El Gamal from Egypt brought together top experts in their fields, governmental officials and even a representative from Vatican at the headquarters of the League Of Arab Nations to find a better way to help people with dermatological disabilities.
Vitiligo Working Group annual meeting set its attendance record this year in Orlando, held one day before the American Academy of Dermatology congress on March 2, 2017.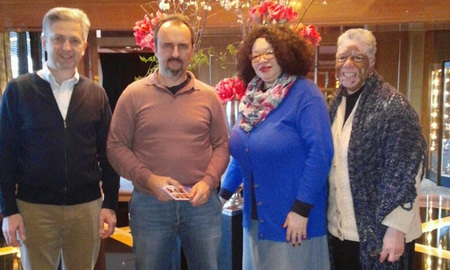 Are there any famous people with vitiligo?

Many celebrities have dealt with vitiligo while remaining in the public eye, maintaining a positive outlook, and having a successful career. Here are a few courageous famous peo...

Is there a special diet for vitiligo?

In short, no.  Some people find that certain foods may worsen their vitiligo symptoms or that others may improve their skin condition. We found no scientific evidence that a sp...

Isn't it just a cosmetic disorder?

Contrary to popular belief, vitiligo is not a cosmetic disorder but a systemic disease affecting the largest body organ and other vital systems, with multiple comorbidities. Fo...