New
The World Vitiligo Day campaign is gearing up. This years headquarters are in China, under the presidency of Prof. Xing Hua Gao, Chairman of Department of Dermatology, No.1 Hospital of China Medical University. Next year, the campaign headquarters will be in Prague, the beautiful capital of the Czech Republic, and a leading candidate to host the World Dermatology Congress in 2019.
We are nearing our target number of petitions for the UN. As of April 28, 2015 we have collected 486,991 online signatures. That's enough to fill up seven National Football League stadiums! (Wikipedia)
Here are stats representing breakdown of signatures by country to this date. If you haven't done this yet, please go to www.25June.org and sign the petition.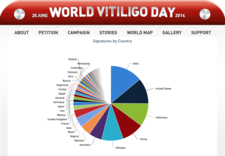 Can Ginkgo Biloba help with vitiligo?

Ginkgo Biloba seems to be a simple, safe, inexpensive and fairly effective therapy for vitiligo. It is mostly effective in halting the progression of the disease. It can also sp...

How can I explain vitiligo to my children?

Vitiligo can be puzzling for a child because a person who has it isn't "ill" in a common sense.  To choose the right words to explain vitiligo diagnosis to a child, first consi...

Isn't it just a cosmetic disorder?

Contrary to popular belief, vitiligo is not a cosmetic disorder but a systemic disease affecting the largest body organ and other vital systems. For more than 1.6 million peop...