New
Stephanie Corne, a New York-based artist and our active supporter, is inviting vitiligans to take part in the art project on February 16th from 2 pm to 6 pm.
She is looking for individuals with vitiligo, pigmentation, scar or burns as well as anyone without any skin blemishes who are interested in expressing how they feel to come and have a free portrait taken. This is a part of the art-series from the last year, and hopefully a candidate art-project for the Vienna Art Fair sponsored by Mr. Dmitry Aksenov.
For details, please contact Stephanie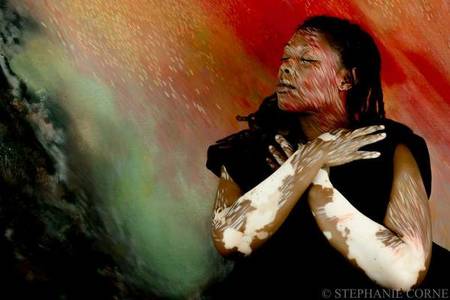 What's better: laser or phototherapy?

In a recent study researchers assessed effect and safety of different laser and phototherapy treatments, such as excimer laser/light, narrowband UVB, UVA and PUVA. No significa...

Is it Bitiligo? Vitaligo? Veteligo?

There are so many different ways that people try and spell or even pronounce Vitiligo.  Here are some common mis-spellings: bitiligo, vitigo, vitaligo, vitilago, vitiglio, vita...

What is vitiligo?

 Vitiligo (pronounced vit-ill-EYE-go) is a generally unpredictable skin disease that causes a gradual loss of skin color and overlying hair on different parts of the body. Cont...