New
The 2015 Vitiligo Advanced Technology Summit was held on May 23, 2015 in Zheng Zhou (China), superbly organised by Mr.Ye, the President of the China Vitiligo Hospitals. Over 150 experts attended the mixed format of the Summit, with lectures and following group discussions in a specially designed educational area. Read more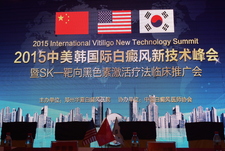 What's better: laser or phototherapy?

In a recent study researchers assessed effect and safety of different laser and phototherapy treatments, such as excimer laser/light, narrowband UVB, UVA and PUVA. No significa...

Will it spread?

Vitiligo activity may vary considerably from person to person. In a good number of patients the disease goes on for 3-4 years and then it settles down, with one or two stubborn...

Can Ayurveda help with vitiligo?

People have used herbs and natural remedies to treat skin conditions for centuries. Vitiligo is an auto-immune condition that causes white patches of skin to develop and expand...