New
International Dermatology Patient Organization Conference is the first ever conference dedicated to the patient leaders committed to run patient support organizations in the area of dermatology. It is held alongside the World Dermatology Congress in Vancouver, British Columbia, on June 11-13, 2015. Vitiligo group leaders from Australia, France, India, Nigeria and USA discussed education, awareness, advocacy, research and fundraising matters today.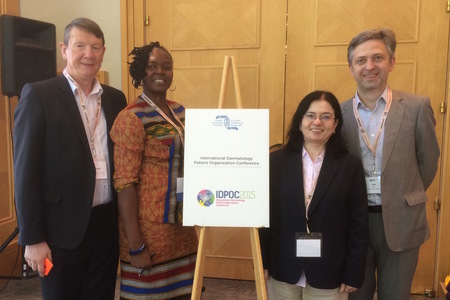 Will it spread?

Vitiligo activity may vary considerably from person to person. In a good number of patients the disease goes on for 3-4 years and then it settles down, with one or two stubborn...

Who is prone to vitiligo?

Scientists know that some people are genetically predisposed to a specific group of autoimmune diseases – including generalized vitiligo – but do not know who and why.It doesn't...

Is it Bitiligo? Vitaligo? Veteligo?

There are so many different ways that people try and spell or even pronounce Vitiligo.  Here are some common mis-spellings: bitiligo, vitigo, vitaligo, vitilago, vitiglio, vita...