New
The famous 'vitiligo kid', an American rapper and singer Krizz Kaliko says on vitiligo 'F*ck Cedric The Entertainer' to 3 million daily visitors of ThisIs50 online channel.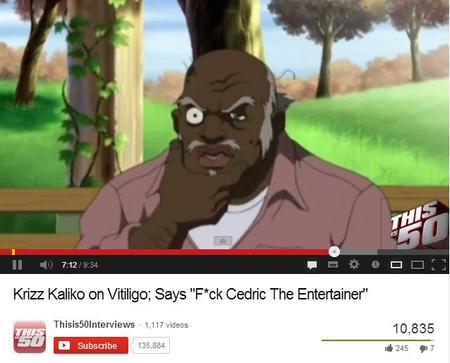 More about Krizz Kaliko and his Vitiligo album that was charted on several Billboard charts here
How can I cure vitiligo?

There is no cure for vitiligo, but there are a number of effective treatment options that can be discussed with your GP or dermatologist. The aim of treatment is to stop new pat...

Is there a special diet for vitiligo?

We have specifically looked into claims that some food supplements or special diet may ease symptoms of vitiligo, or completely reverse it, and found no firm scientific evidence...

Can chemicals cause vitiligo?

It's important to remember there are multiple factors involved in vitiligo onset, including genetic predisposition, living and working environments, and exposure to certain chem...