New
Model Winnie Harlow has been an inspiration to aspiring model April Star for years, and they meet live for the first time on The Real. Watch as the stunning models shed light on their skin condition and talk about breaking down beauty barriers. 'The Real' show will air today on FOX but here is a little clip from the show when producers surprised April with an appearance from Winnie Harlow (link) Check your local air time here.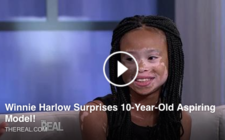 Is vitiligo contagious?

Vitiligo is NOT contagious. It cannot be passed on or caught from touching someone with vitiligo, shaking hands, swimming in the same pool, sharing towels, sitting next to someo...

What tests should be done?

A well-trained dermatologist should be able to diagnose vitiligo and distinguish it from contact leukoderma or more than twenty other conditions with similar skin appearance bas...