New
Model Winnie Harlow has been an inspiration to aspiring model April Star for years, and they meet live for the first time on The Real. Watch as the stunning models shed light on their skin condition and talk about breaking down beauty barriers. 'The Real' show will air today on FOX but here is a little clip from the show when producers surprised April with an appearance from Winnie Harlow (link) Check your local air time here.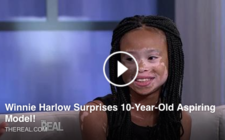 Vitiligo and hearing loss: any connection?

In short, NO. Recent research shows no relationship between a degree of skin depigmentation and hearing loss severity in vitiligo patients. The results of this study showed tha...

How can I cure vitiligo?

There is no cure for vitiligo, but there are a number of effective treatment options that can be discussed with your GP or dermatologist. The aim of treatment is to stop new pat...

Shall I take vitamin D for my vitiligo?

In Brief Vitamin D plays a central role in the prevention of different inflammatory and chronic diseases. Consuming 1,000–4,000 IU (25–100 mcg) of vitamin D3 daily should be id...