New
Model Winnie Harlow has been an inspiration to aspiring model April Star for years, and they meet live for the first time on The Real. Watch as the stunning models shed light on their skin condition and talk about breaking down beauty barriers. 'The Real' show will air today on FOX but here is a little clip from the show when producers surprised April with an appearance from Winnie Harlow (link) Check your local air time here.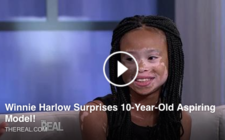 How long does it take to treat vitiligo?

Treatment results will vary by person and type of vitiligo. The rule of thumb is that you will need to allow at least 3 to 6 months before you begin to see results from any trea...

What causes vitiligo?

Surprisingly, the causes of vitiligo are yet to be precisely established. Researchers know the cause is pre-wired in your genes, just waiting for a bad luck moment. In about hal...