New
At a recent meeting in Vancouver (Canada), leaders of vitiligo support organizations from 5 continents established a World Vitiligo Alliance, and invite leaders of other organizations to join. This is a major development in vitiligo area and more details will be released soon at www.worldvitiligoalliance.org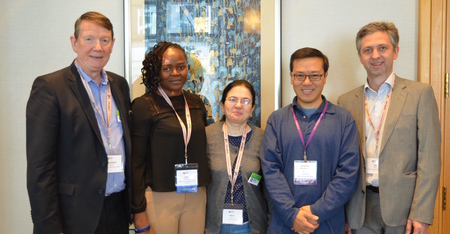 In the photo, from left to right: Jean-Marie Meurant (AFVitiligo, France), Ogo Maduewesi (VITSAF, Nigeria), Dr. Maya Tulpule (Shweta, India), Dr. Adrian Mar (Vitiligo Association, Australia), Yan Valle (Vitiligo Research Foundation (USA) 
Is there a special diet for vitiligo?

In short, no.  Some people find that certain foods may worsen their vitiligo symptoms or that others may improve their skin condition. We found no scientific evidence that a sp...

Shall I take vitamin D for my vitiligo?

In Brief Vitamin D plays a central role in the prevention of different inflammatory and chronic diseases. Consuming 1,000–4,000 IU (25–100 mcg) of vitamin D3 daily should be id...

Is it Bitiligo? Vitaligo? Veteligo?

There are so many different ways that people try and spell or even pronounce Vitiligo.  Here are some common mis-spellings: bitiligo, vitigo, vitaligo, vitilago, vitiglio, vita...