New
Hungarian vitiligo support group kicked off World Vitiligo Day 2020 celebrations with event at the Lake Balaton on June 20th. WVD webinar in China was watched by 5,51 million people!

🇭🇺 HUNGARY
Adrienn Széles, a vitiligo ambassador to Hungary, said an in-person was not even planned – yet over 50 group members showed up for a two-day meeting that traditionally takes place at the lakeside.

This meeting is a symbol of the Hungary and other countries are seeking to return to normal life after the pandemic. It may happen quickly despite concerns from public health experts.

There is a growing sentiment that self-isolation, fear and exaggerated reactions to coronavirus could do more damage than the disease itself. A mandatory social isolation leads to significant increase of severe health conditions, such as cardiovascular disease, dementia and depression.

Yet, this situation is eerily familiar to millions people with vitiligo, who are routinely cut-off from "normal" lives. It reminds us how equally vulnerable we're all and, more importantly, that we shall all stay connected.

🇨🇳 CHINA
We didn't want to get into the way of the Dragon Boat Festival, which falls on June 25 this year. So, the World Vitiligo Day activities in China were held on June 23rd.

Dragon Boat Festival, also known as Duanwu Festival, is a traditional and important celebration in China. This folk festival is celebrated for over 2,000 years. Dragon boat racing, health-related customs, honoring Qu Yuan and others are the main activities throughout a 3-day national holiday.

The webcast was organized by Prof. Xinghua Gao – an honorary President of WVD 2015. Professor Gao is a Chair of Dermatology and Deputy Director at The First Hospital of China Medical University in Shenyang. His outstanding team of activists have signed 12 thousand (!!!) petitions on the streets of Shenyang and other Chinese cities in just three days in 2015.

🏅Now, a new record! 5.5 million people watched the World Vitiligo Day webinar on June 23rd.
Please check our Facebook and Instagram for the most up-to-date info on World Vitiligo Day 2020 celebrations.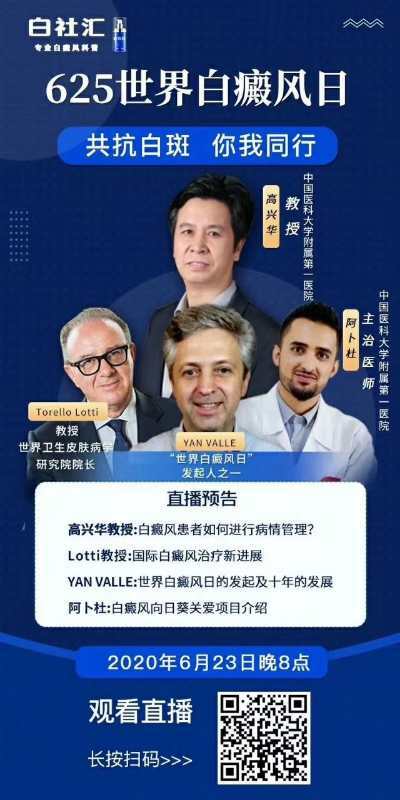 How can I cure vitiligo?

There is no cure for vitiligo, but there are a number of effective treatment options that can be discussed with your GP or dermatologist. The aim of treatment is to stop new pat...

What is vitiligo?

Vitiligo (pronounced vit-ill-EYE-go) is a relatively common skin disease characterized by smooth, white, painless spots or patches on various parts of the body and hairs above i...

Does halo nevi affect vitiligo development?

Halo nevi — nevi with an depigmented circle around it, usually on the trunk — are about 10x more common in vitiligo patients than in the general population, especially in childr...