New
by Michigan Governor Mr. Rick Snyder and Mayor Mr. Dave Bing.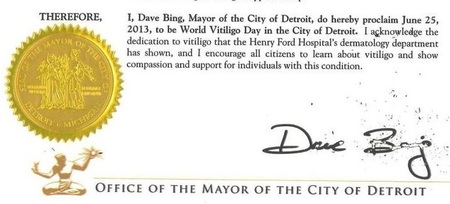 We cannot thank everyone enough for their time and efforts in putting all of this together. What an amazing week this has been right here in Detroit, the symbol of American renewal and determination! Read more
What's better: laser or phototherapy?

In a recent study researchers assessed effect and safety of different laser and phototherapy treatments, such as excimer laser/light, narrowband UVB, UVA and PUVA. No significa...

What tests should be done?

A well-trained dermatologist should be able to diagnose vitiligo and distinguish it from contact leukoderma or more than twenty other conditions with similar skin appearance bas...

Can Ayurveda help with vitiligo?

People have used herbs and natural remedies to treat skin conditions for centuries. Vitiligo is an auto-immune condition that causes white patches of skin to develop and expand...