New
by Michigan Governor Mr. Rick Snyder and Mayor Mr. Dave Bing.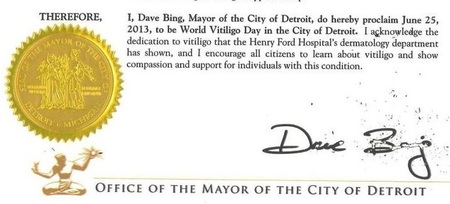 We cannot thank everyone enough for their time and efforts in putting all of this together. What an amazing week this has been right here in Detroit, the symbol of American renewal and determination! Read more
Who is prone to vitiligo?

Scientists know that some people are genetically predisposed to a specific group of autoimmune diseases – including generalized vitiligo – but do not know who and why.It doesn't...

How can I explain vitiligo to my children?

Vitiligo can be puzzling for a child because a person who has it isn't "ill" in a common sense.  To choose the right words to explain vitiligo diagnosis to a child, first consi...