New
During the 6th annual conference, Mrs. Valarie Molyneaux (photo), CEO and Founder of VITFriends support group from Boston, MA has opened a letter with official proclamation from Governor of Massachusetts recognizing the World Vitiligo Day. For full conference report please visit Facebook page.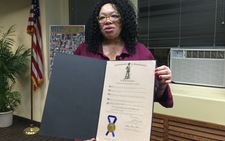 What is vitiligo?

Vitiligo (pronounced vit-ill-EYE-go) is a relatively common skin disease characterized by smooth, white, painless spots or patches on various parts of the body and hairs above i...

What's better: laser or phototherapy?

In a recent study researchers assessed effect and safety of different laser and phototherapy treatments, such as excimer laser/light, narrowband UVB, UVA and PUVA. No significa...

How can I cure vitiligo?

There is no cure for vitiligo, but there are a number of effective treatment options that can be discussed with your GP or dermatologist. The aim of treatment is to stop new pat...