New
During the 6th annual conference, Mrs. Valarie Molyneaux (photo), CEO and Founder of VITFriends support group from Boston, MA has opened a letter with official proclamation from Governor of Massachusetts recognizing the World Vitiligo Day. For full conference report please visit Facebook page.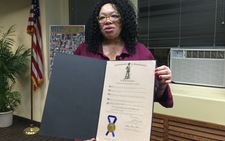 Can Ginkgo Biloba help with vitiligo?

Ginkgo Biloba seems to be a simple, safe, inexpensive and fairly effective therapy for vitiligo. It is mostly effective in halting the progression of the disease. It can also sp...

How can I cure vitiligo?

There is no cure for vitiligo, but there are a number of effective treatment options that can be discussed with your GP or dermatologist. The aim of treatment is to stop new pat...