New
During the 6th annual conference, Mrs. Valarie Molyneaux (photo), CEO and Founder of VITFriends support group from Boston, MA has opened a letter with official proclamation from Governor of Massachusetts recognizing the World Vitiligo Day. For full conference report please visit Facebook page.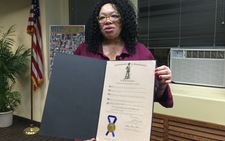 What's better: laser or phototherapy?

In a recent study researchers assessed effect and safety of different laser and phototherapy treatments, such as excimer laser/light, narrowband UVB, UVA and PUVA. No significa...

What causes vitiligo?

Surprisingly, the causes of vitiligo are yet to be precisely established. Researchers know the cause is pre-wired in your genes, just waiting for a bad luck moment. In about hal...

What tests should be done?

A well-trained dermatologist should be able to diagnose vitiligo and distinguish it from contact leukoderma or more than twenty other conditions with similar skin appearance bas...