Event
Brooklyn, New York
Stephanie Corne, a member of our Public Advisory Board, is looking for people of all ages with vitiligo for a series of photo-shoots for an exciting new cosmetic product designed to improve skin appearance.
There will be a general audition for ten individuals on Sunday 15th at the Brooklyn studio location starting at 1 pm and two additional shoots on Monday 16th and Wednesday 18th at 10:30 am.
All participants at the casting will be compensated $50 for a one hour on Sunday 15th March 2015 at 1 pm, and will receive free samples of the product. Three will be selected from among those in attendance on Sunday for shoots on Monday 16th & Wednesday 18th at 10:30 am and they will be receive an additional $200 for the two days of shooting. (Each shoot will last no more than 2 hours).
To apply, please go to: http://www.naturallyintensephotography.com/vitiligo-casting-call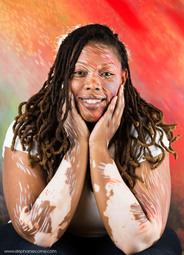 Can chemicals cause vitiligo?

It's important to remember there are multiple factors involved in vitiligo onset, including genetic predisposition, living and working environments, and exposure to certain chem...

Is it Bitiligo? Vitaligo? Veteligo?

There are so many different ways that people try and spell or even pronounce Vitiligo.  Here are some common mis-spellings: bitiligo, vitigo, vitaligo, vitilago, vitiglio, vita...

Will it spread?

Vitiligo activity may vary considerably from person to person. In a good number of patients the disease goes on for 3-4 years and then it settles down, with one or two stubborn...