Event
Brooklyn, New York
Stephanie Corne, a member of our Public Advisory Board, is looking for people of all ages with vitiligo for a series of photo-shoots for an exciting new cosmetic product designed to improve skin appearance.
There will be a general audition for ten individuals on Sunday 15th at the Brooklyn studio location starting at 1 pm and two additional shoots on Monday 16th and Wednesday 18th at 10:30 am.
All participants at the casting will be compensated $50 for a one hour on Sunday 15th March 2015 at 1 pm, and will receive free samples of the product. Three will be selected from among those in attendance on Sunday for shoots on Monday 16th & Wednesday 18th at 10:30 am and they will be receive an additional $200 for the two days of shooting. (Each shoot will last no more than 2 hours).
To apply, please go to: http://www.naturallyintensephotography.com/vitiligo-casting-call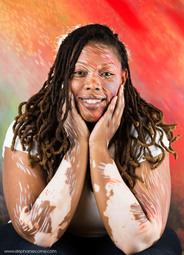 Is there a special diet for vitiligo?

In short, no.  Some people find that certain foods may worsen their vitiligo symptoms or that others may improve their skin condition. We found no scientific evidence that a sp...

Are there any famous people with vitiligo?

Many celebrities have dealt with vitiligo while remaining in the public eye, maintaining a positive outlook, and having a successful career. Here are a few courageous famous peo...

Isn't it just a cosmetic disorder?

Contrary to popular belief, vitiligo is not a cosmetic disorder but a systemic disease affecting the largest body organ and other vital systems, with multiple comorbidities. Fo...