Event
380 Washington Avenue, Brooklyn NY, 11238
Support group meeting will be held @ the Brooklyn Public Library (Clinton Hill Branch) from 2-4 pm. If you would like to attend, please contact Pat (mochanet@verizon.net) or Shazaad (vitiligocamo83@gmail.com). RSVP soon as number of seats is limited. Light refreshments will be served.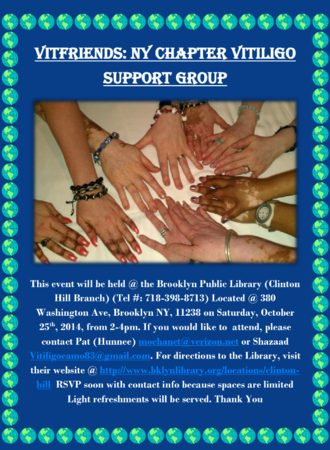 Can chemicals cause vitiligo?

It's important to remember there are multiple factors involved in vitiligo onset, including genetic predisposition, living and working environments, and exposure to certain chem...

Is there a special diet for vitiligo?

In short, no.  Some people find that certain foods may worsen their vitiligo symptoms or that others may improve their skin condition. We found no scientific evidence that a sp...