Event
380 Washington Avenue, Brooklyn NY, 11238
Support group meeting will be held @ the Brooklyn Public Library (Clinton Hill Branch) from 2-4 pm. If you would like to attend, please contact Pat (mochanet@verizon.net) or Shazaad (vitiligocamo83@gmail.com). RSVP soon as number of seats is limited. Light refreshments will be served.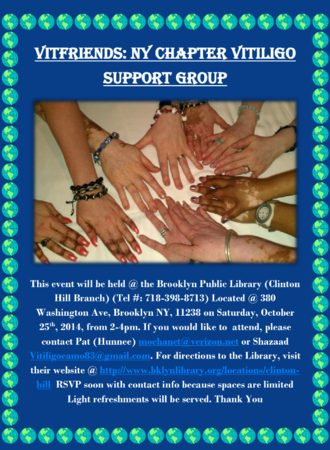 Can Ginkgo Biloba help with vitiligo?

Ginkgo Biloba seems to be a simple, safe, inexpensive and fairly effective therapy for vitiligo. It is mostly effective in halting the progression of the disease. It can also sp...

Isn't it just a cosmetic disorder?

Contrary to popular belief, vitiligo is not a cosmetic disorder but a systemic disease affecting the largest body organ and other vital systems, with multiple comorbidities. Fo...