Event
380 Washington Avenue, Brooklyn NY, 11238
Support group meeting will be held @ the Brooklyn Public Library (Clinton Hill Branch) from 2-4 pm. If you would like to attend, please contact Pat (mochanet@verizon.net) or Shazaad (vitiligocamo83@gmail.com). RSVP soon as number of seats is limited. Light refreshments will be served.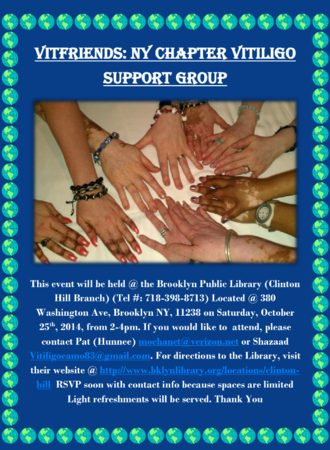 How long does it take to treat vitiligo?

Treatment results will vary by person and type of vitiligo. The rule of thumb is that you will need to allow at least 3 to 6 months before you begin to see results from any trea...

Can Ginkgo Biloba help with vitiligo?

Ginkgo Biloba seems to be a simple, safe, inexpensive and fairly effective therapy for vitiligo. It is mostly effective in halting the progression of the disease. It can also sp...

How can I explain vitiligo to my children?

Vitiligo can be puzzling for a child because a person who has it isn't "ill" in a common sense.  To choose the right words to explain vitiligo diagnosis to a child, first consi...