Event
380 Washington Avenue, Brooklyn NY, 11238
Support group meeting will be held @ the Brooklyn Public Library (Clinton Hill Branch) from 2-4 pm. If you would like to attend, please contact Pat (mochanet@verizon.net) or Shazaad (vitiligocamo83@gmail.com). RSVP soon as number of seats is limited. Light refreshments will be served.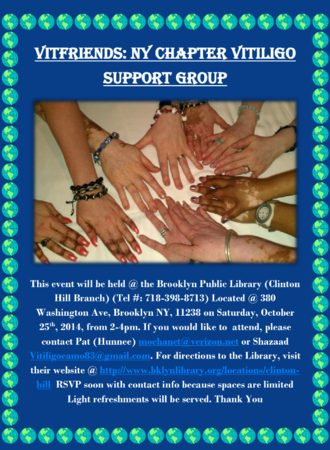 Is it Bitiligo? Vitaligo? Veteligo?

There are so many different ways that people try and spell or even pronounce Vitiligo.  Here are some common mis-spellings: bitiligo, vitigo, vitaligo, vitilago, vitiglio, vita...

How can I cure vitiligo?

There is no cure for vitiligo, but there are a number of effective treatment options that can be discussed with your GP or dermatologist. The aim of treatment is to stop new pat...