Event
380 Washington Avenue, Brooklyn NY, 11238
Support group meeting will be held @ the Brooklyn Public Library (Clinton Hill Branch) from 2-4 pm. If you would like to attend, please contact Pat (mochanet@verizon.net) or Shazaad (vitiligocamo83@gmail.com). RSVP soon as number of seats is limited. Light refreshments will be served.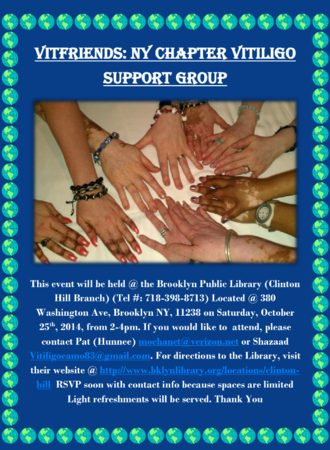 Is there a special diet for vitiligo?

In short, no.  Some people find that certain foods may worsen their vitiligo symptoms or that others may improve their skin condition. We found no scientific evidence that a sp...

Does halo nevi affect vitiligo development?

Halo nevi — nevi with an depigmented circle around it, usually on the trunk — are about 10x more common in vitiligo patients than in the general population, especially in childr...