Event
Prospect Park, NY - near Meadowport Arch and West Drive
NY Vitiligo Community will gather for Potluck Picnic this Sunday, September 3rd, at 12-3 PM, at Prospect Park.
The event is being run by our group's own Tiffany Grant.
Please let us know if you will be able to attend by email nyvitiligo@gmail.com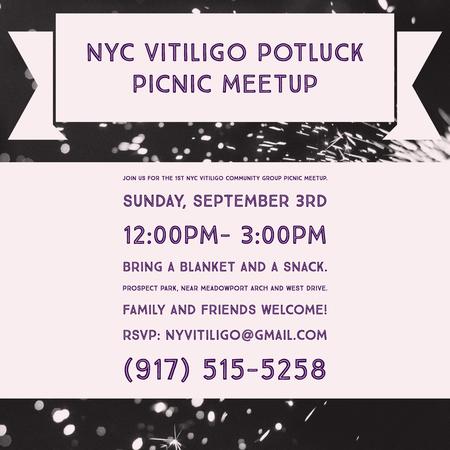 Is vitiligo contagious?

Vitiligo is NOT contagious. It cannot be passed on or caught from touching someone with vitiligo, shaking hands, swimming in the same pool, sharing towels, sitting next to someo...

What tests should be done?

A well-trained dermatologist should be able to diagnose vitiligo and distinguish it from contact leukoderma or more than twenty other conditions with similar skin appearance bas...

How long does it take to treat vitiligo?

Treatment results will vary by person and type of vitiligo. The rule of thumb is that you will need to allow at least 3 to 6 months before you begin to see results from any trea...