Event
333 Adams str., Brooklyn NY 11201
Vitiligo camouflage revolution begins on June 25th. After nearly 1.5 years of planning and development, Zanderm is getting ready to launch it revolutionary camouflage for vitiligo on the World Vitiligo Day. We are thrilled with our product and want to share it with you early, and to celebrate the people who made it work. So we decided to host a pre-launch event. Come join us at Brooklyn Mariott on Monday June 15th from 6.30 to 8.30 pm.
RSVP vitiligocamo83@gmail.com
Address: 333 Adams str., Brooklyn NY 11201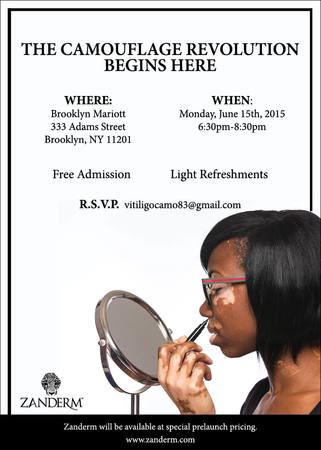 Can chemicals cause vitiligo?

It's important to remember there are multiple factors involved in vitiligo onset, including genetic predisposition, living and working environments, and exposure to certain chem...

What is vitiligo?

Vitiligo (pronounced vit-ill-EYE-go) is a relatively common skin disease characterized by smooth, white, painless spots or patches on various parts of the body and hairs above i...

Is there a special diet for vitiligo?

In short, no.  Some people find that certain foods may worsen their vitiligo symptoms or that others may improve their skin condition. We found no scientific evidence that a sp...