Event
333 Adams str., Brooklyn NY 11201
Vitiligo camouflage revolution begins on June 25th. After nearly 1.5 years of planning and development, Zanderm is getting ready to launch it revolutionary camouflage for vitiligo on the World Vitiligo Day. We are thrilled with our product and want to share it with you early, and to celebrate the people who made it work. So we decided to host a pre-launch event. Come join us at Brooklyn Mariott on Monday June 15th from 6.30 to 8.30 pm.
RSVP vitiligocamo83@gmail.com
Address: 333 Adams str., Brooklyn NY 11201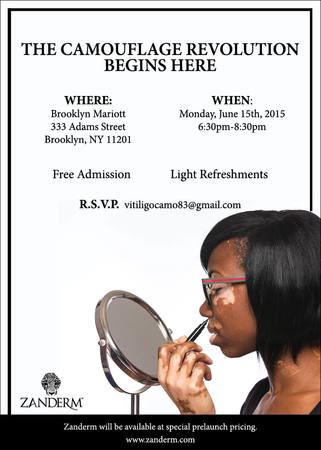 PTSD in Vitiligo?

Vitiligo has long been associated with disease-related discrimination, social stigma, self-isolation, lower self-esteem, embarrassment, anxiety, and depression.  These chronic ...

What tests should be done?

A well-trained dermatologist should be able to diagnose vitiligo and distinguish it from contact leukoderma or more than twenty other conditions with similar skin appearance bas...