Event
333 Adams str., Brooklyn NY 11201
Vitiligo camouflage revolution begins on June 25th. After nearly 1.5 years of planning and development, Zanderm is getting ready to launch it revolutionary camouflage for vitiligo on the World Vitiligo Day. We are thrilled with our product and want to share it with you early, and to celebrate the people who made it work. So we decided to host a pre-launch event. Come join us at Brooklyn Mariott on Monday June 15th from 6.30 to 8.30 pm.
RSVP vitiligocamo83@gmail.com
Address: 333 Adams str., Brooklyn NY 11201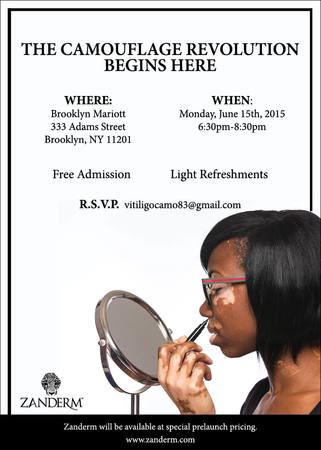 How can I explain vitiligo to my children?

Vitiligo can be puzzling for a child because a person who has it isn't "ill" in a common sense.  To choose the right words to explain vitiligo diagnosis to a child, first consi...

How can I cure vitiligo?

There is no cure for vitiligo, but there are a number of effective treatment options that can be discussed with your GP or dermatologist. The aim of treatment is to stop new pat...

Does halo nevi affect vitiligo development?

Halo nevi — nevi with an depigmented circle around it, usually on the trunk — are about 10x more common in vitiligo patients than in the general population, especially in childr...