Event
333 Adams str., Brooklyn NY 11201
Vitiligo camouflage revolution begins on June 25th. After nearly 1.5 years of planning and development, Zanderm is getting ready to launch it revolutionary camouflage for vitiligo on the World Vitiligo Day. We are thrilled with our product and want to share it with you early, and to celebrate the people who made it work. So we decided to host a pre-launch event. Come join us at Brooklyn Mariott on Monday June 15th from 6.30 to 8.30 pm.
RSVP vitiligocamo83@gmail.com
Address: 333 Adams str., Brooklyn NY 11201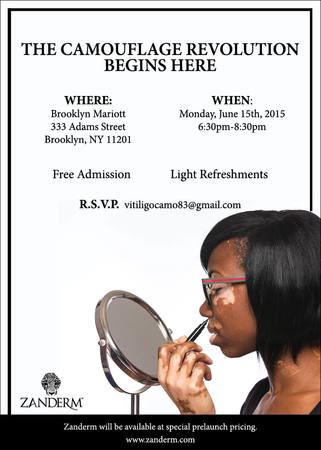 Are there any famous people with vitiligo?

Many celebrities have dealt with vitiligo while remaining in the public eye, maintaining a positive outlook, and having a successful career. Here are a few courageous famous peo...

Who is prone to vitiligo?

Scientists know that some people are genetically predisposed to a specific group of autoimmune diseases – including generalized vitiligo – but do not know who and why.It doesn't...

Is it Bitiligo? Vitaligo? Veteligo?

There are so many different ways that people try and spell or even pronounce Vitiligo.  Here are some common mis-spellings: bitiligo, vitigo, vitaligo, vitilago, vitiglio, vita...