Event
333 Adams str., Brooklyn NY 11201
Vitiligo camouflage revolution begins on June 25th. After nearly 1.5 years of planning and development, Zanderm is getting ready to launch it revolutionary camouflage for vitiligo on the World Vitiligo Day. We are thrilled with our product and want to share it with you early, and to celebrate the people who made it work. So we decided to host a pre-launch event. Come join us at Brooklyn Mariott on Monday June 15th from 6.30 to 8.30 pm.
RSVP vitiligocamo83@gmail.com
Address: 333 Adams str., Brooklyn NY 11201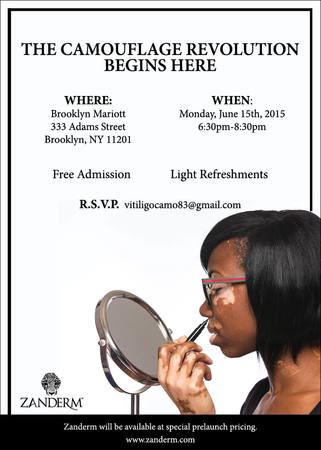 How long does it take to treat vitiligo?

Treatment results will vary by person and type of vitiligo. The rule of thumb is that you will need to allow at least 3 to 6 months before you begin to see results from any trea...

Is vitiligo contagious?

Vitiligo is NOT contagious. It cannot be passed on or caught from touching someone with vitiligo, shaking hands, swimming in the same pool, sharing towels, sitting next to someo...