Event
Taljai Tekdi, Pune, India
1st Ever Walk and Run for Vitiligo Awareness will be held on Sunday, 31st January 2016 at 6 am.
Categories: 3-5-10 km.
Venue: Taljai Tekdi, Pune
For details and registration go to: www.myshweta.org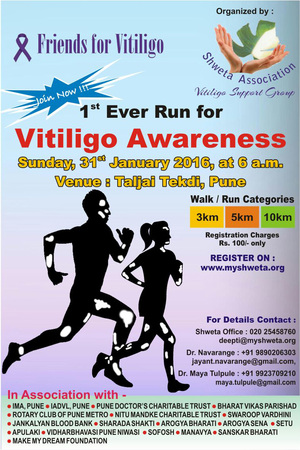 Can chemicals cause vitiligo?

It's important to remember there are multiple factors involved in vitiligo onset, including genetic predisposition, living and working environments, and exposure to certain chem...

Is there a special diet for vitiligo?

In short, no.  Some people find that certain foods may worsen their vitiligo symptoms or that others may improve their skin condition. We found no scientific evidence that a sp...