Event
Taljai Tekdi, Pune, India
1st Ever Walk and Run for Vitiligo Awareness will be held on Sunday, 31st January 2016 at 6 am.
Categories: 3-5-10 km.
Venue: Taljai Tekdi, Pune
For details and registration go to: www.myshweta.org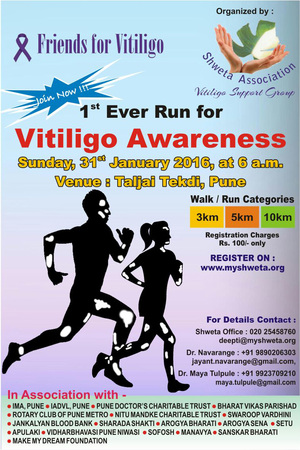 Vitiligo and hearing loss: any connection?

In short, NO. Recent research shows no relationship between a degree of skin depigmentation and hearing loss severity in vitiligo patients. The results of this study showed tha...

What is vitiligo?

Vitiligo (pronounced vit-ill-EYE-go) is a relatively common skin disease characterized by smooth, white, painless spots or patches on various parts of the body and hairs above i...

Can a gluten-free diet help with vitiligo?

It's very unlikely. We have specifically looked into claims that gluten-free diet may ease symptoms of vitiligo, or completely reverse it, and found no firm scientific evidence ...