Event
Taljai Tekdi, Pune, India
1st Ever Walk and Run for Vitiligo Awareness will be held on Sunday, 31st January 2016 at 6 am.
Categories: 3-5-10 km.
Venue: Taljai Tekdi, Pune
For details and registration go to: www.myshweta.org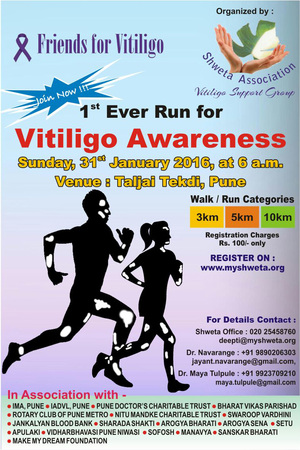 Can Ginkgo Biloba help with vitiligo?

Ginkgo Biloba seems to be a simple, safe, inexpensive and fairly effective therapy for vitiligo. It is mostly effective in halting the progression of the disease. It can also sp...

Will it spread?

Vitiligo activity may vary considerably from person to person. The natural course of vitiligo is truly unpredictable but usually progressive. The most recent VALIANT study on v...