Event
Taljai Tekdi, Pune, India
1st Ever Walk and Run for Vitiligo Awareness will be held on Sunday, 31st January 2016 at 6 am.
Categories: 3-5-10 km.
Venue: Taljai Tekdi, Pune
For details and registration go to: www.myshweta.org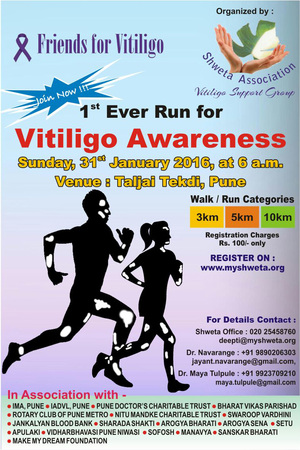 Is there a special diet for vitiligo?

In short, no.  Some people find that certain foods may worsen their vitiligo symptoms or that others may improve their skin condition. We found no scientific evidence that a sp...

How long does it take to treat vitiligo?

Treatment results will vary by person and type of vitiligo. The rule of thumb is that you will need to allow at least 3 to 6 months before you begin to see results from any trea...