Event
Taljai Tekdi, Pune, India
1st Ever Walk and Run for Vitiligo Awareness will be held on Sunday, 31st January 2016 at 6 am.
Categories: 3-5-10 km.
Venue: Taljai Tekdi, Pune
For details and registration go to: www.myshweta.org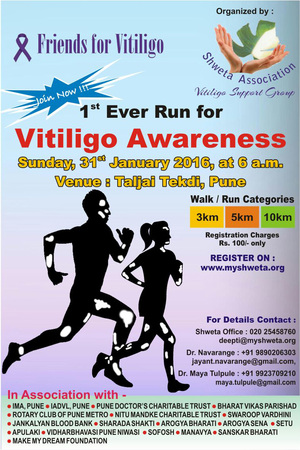 How can I explain vitiligo to my children?

Vitiligo can be puzzling for a child because a person who has it isn't "ill" in a common sense.  To choose the right words to explain vitiligo diagnosis to a child, first consi...

Shall I take vitamin D for my vitiligo?

In Brief Vitamin D plays a central role in the prevention of different inflammatory and chronic diseases. Consuming 1,000–4,000 IU (25–100 mcg) of vitamin D3 daily should be id...

Is it Bitiligo? Vitaligo? Veteligo?

There are so many different ways that people try and spell or even pronounce Vitiligo.  Here are some common mis-spellings: bitiligo, vitigo, vitaligo, vitilago, vitiglio, vita...