Event
Clinton Hill Branch Library, 380 Washington Ave, Brooklyn, NY
Come join us for yet another Vitiligo Support Group meeting. First 15 minutes of every meeting, we do a meet and greet so members can get a chance to know each other. After that, we discuss issues personal or general related to dealing and living with vitiligo. Snacks and beverages are usually served so no need to bring your own. Spaces are limited so please RSVP. Thank You and hope to see you soon. 
Shazaad Games, group leader
Where: Clinton Hill Branch Library, 380 Washington Ave, Brooklyn, NY
When: Saturday, January 17, 2015 from 3:00 PM to 5:00 PM.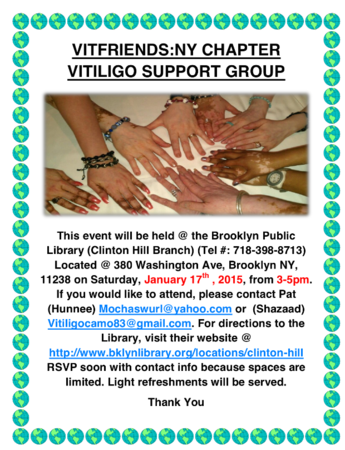 How can I explain vitiligo to my children?

Vitiligo can be puzzling for a child because a person who has it isn't "ill" in a common sense.  To choose the right words to explain vitiligo diagnosis to a child, first consi...

PTSD in Vitiligo?

Vitiligo has long been associated with disease-related discrimination, social stigma, self-isolation, lower self-esteem, embarrassment, anxiety, and depression.  These chronic ...

Vitiligo and hearing loss: any connection?

In short, NO. Recent research shows no relationship between a degree of skin depigmentation and hearing loss severity in vitiligo patients. The results of this study showed tha...