Event
Clinton Hill Branch Library, 380 Washington Ave, Brooklyn, NY
Come join us for yet another Vitiligo Support Group meeting. First 15 minutes of every meeting, we do a meet and greet so members can get a chance to know each other. After that, we discuss issues personal or general related to dealing and living with vitiligo. Snacks and beverages are usually served so no need to bring your own. Spaces are limited so please RSVP. Thank You and hope to see you soon. 
Shazaad Games, group leader
Where: Clinton Hill Branch Library, 380 Washington Ave, Brooklyn, NY
When: Saturday, January 17, 2015 from 3:00 PM to 5:00 PM.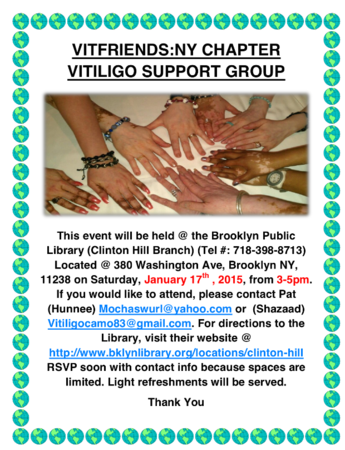 Does halo nevi affect vitiligo development?

Halo nevi — nevi with an depigmented circle around it, usually on the trunk — are about 10x more common in vitiligo patients than in the general population, especially in childr...

What is vitiligo?

Vitiligo (pronounced vit-ill-EYE-go) is a relatively common skin disease characterized by smooth, white, painless spots or patches on various parts of the body and hairs above i...

How long does it take to treat vitiligo?

Treatment results will vary by person and type of vitiligo. The rule of thumb is that you will need to allow at least 3 to 6 months before you begin to see results from any trea...