Event
Gagopa Karaoke at 28 W 32nd Street, New York, NY 10001
Come join us for Vitiligo Karaoke Night and stay until we can't sing anymore! Complimentary snacks will be provided. Drinks will be sold on site, or feel free to bring your own beer, wine or food. 
We'll wait for you at Gagopa Karaoke on April 25th starting 7 pm. For 21 y.o. and over. If you plan on attending, please RSVP by emailing Shazaad (VitiligoCamo83@gmail.com) or Hunnee (Mochaswurl@yahoo.com).
Address: 28 W 32nd Street, New York, NY 10001
Tel: (212) 967-5353.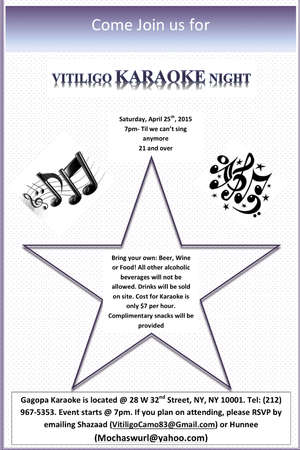 What is vitiligo?

Vitiligo (pronounced vit-ill-EYE-go) is a relatively common skin disease characterized by smooth, white, painless spots or patches on various parts of the body and hairs above i...

What tests should be done?

A well-trained dermatologist should be able to diagnose vitiligo and distinguish it from contact leukoderma or more than twenty other conditions with similar skin appearance bas...