Event
Gagopa Karaoke at 28 W 32nd Street, New York, NY 10001
Come join us for Vitiligo Karaoke Night and stay until we can't sing anymore! Complimentary snacks will be provided. Drinks will be sold on site, or feel free to bring your own beer, wine or food. 
We'll wait for you at Gagopa Karaoke on April 25th starting 7 pm. For 21 y.o. and over. If you plan on attending, please RSVP by emailing Shazaad (VitiligoCamo83@gmail.com) or Hunnee (Mochaswurl@yahoo.com).
Address: 28 W 32nd Street, New York, NY 10001
Tel: (212) 967-5353.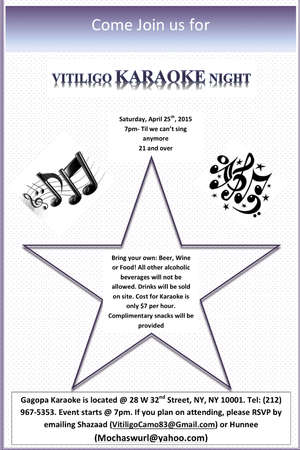 Does halo nevi affect vitiligo development?

Halo nevi — nevi with an depigmented circle around it, usually on the trunk — are about 10x more common in vitiligo patients than in the general population, especially in childr...

What's better: laser or phototherapy?

In a recent study researchers assessed effect and safety of different laser and phototherapy treatments, such as excimer laser/light, narrowband UVB, UVA and PUVA. No significa...