Event
Gagopa Karaoke at 28 W 32nd Street, New York, NY 10001
Come join us for Vitiligo Karaoke Night and stay until we can't sing anymore! Complimentary snacks will be provided. Drinks will be sold on site, or feel free to bring your own beer, wine or food. 
We'll wait for you at Gagopa Karaoke on April 25th starting 7 pm. For 21 y.o. and over. If you plan on attending, please RSVP by emailing Shazaad (VitiligoCamo83@gmail.com) or Hunnee (Mochaswurl@yahoo.com).
Address: 28 W 32nd Street, New York, NY 10001
Tel: (212) 967-5353.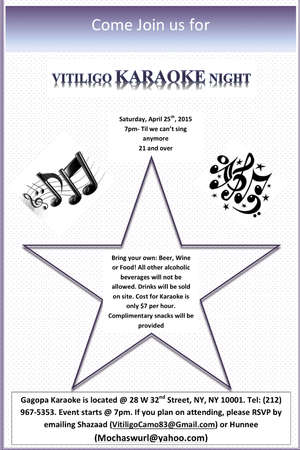 Vitiligo and hearing loss: any connection?

In short, NO. Recent research shows no relationship between a degree of skin depigmentation and hearing loss severity in vitiligo patients. The results of this study showed tha...

Can Ayurveda help with vitiligo?

People have used herbs and natural remedies to treat skin conditions for centuries. Vitiligo is an auto-immune condition that causes white patches of skin to develop and expand...

Can chemicals cause vitiligo?

It's important to remember there are multiple factors involved in vitiligo onset, including genetic predisposition, living and working environments, and exposure to certain chem...