Event
Gagopa Karaoke at 28 W 32nd Street, New York, NY 10001
Come join us for Vitiligo Karaoke Night and stay until we can't sing anymore! Complimentary snacks will be provided. Drinks will be sold on site, or feel free to bring your own beer, wine or food. 
We'll wait for you at Gagopa Karaoke on April 25th starting 7 pm. For 21 y.o. and over. If you plan on attending, please RSVP by emailing Shazaad (VitiligoCamo83@gmail.com) or Hunnee (Mochaswurl@yahoo.com).
Address: 28 W 32nd Street, New York, NY 10001
Tel: (212) 967-5353.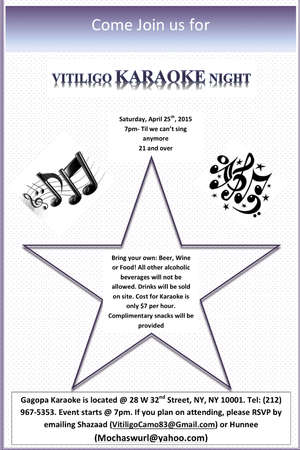 Who is prone to vitiligo?

Scientists know that some people are genetically predisposed to a specific group of autoimmune diseases – including generalized vitiligo – but do not know who and why.It doesn't...

Is there a special diet for vitiligo?

In short, no.  Some people find that certain foods may worsen their vitiligo symptoms or that others may improve their skin condition. We found no scientific evidence that a sp...