New
This sends yet another message to Big Pharma that vitiligo has a strong, well organized community of patients looking for effective treatments. And it will soon be joining forces with another group - the Vitiligo Working Group - at the annual AAD meeting in San Diego.
Enjoy a special price of $0.99 (reg. $9.99) with Kindle Matchbook: https://goo.gl/ZR2Qae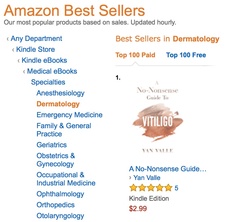 Can a gluten-free diet help with vitiligo?

It's very unlikely. We have specifically looked into claims that gluten-free diet may ease symptoms of vitiligo, or completely reverse it, and found no firm scientific evidence ...

How long does it take to treat vitiligo?

Treatment results will vary by person and type of vitiligo. The rule of thumb is that you will need to allow at least 3 to 6 months before you begin to see results from any trea...