New
This sends yet another message to Big Pharma that vitiligo has a strong, well organized community of patients looking for effective treatments. And it will soon be joining forces with another group - the Vitiligo Working Group - at the annual AAD meeting in San Diego.
Enjoy a special price of $0.99 (reg. $9.99) with Kindle Matchbook: https://goo.gl/ZR2Qae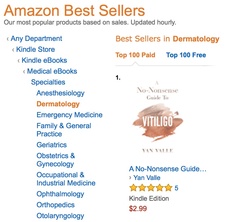 Can a gluten-free diet help with vitiligo?

It's very unlikely. We have specifically looked into claims that gluten-free diet may ease symptoms of vitiligo, or completely reverse it, and found no firm scientific evidence ...

Is it Bitiligo? Vitaligo? Veteligo?

There are so many different ways that people try and spell or even pronounce Vitiligo.  Here are some common mis-spellings: bitiligo, vitigo, vitaligo, vitilago, vitiglio, vita...

Can Ginkgo Biloba help with vitiligo?

Ginkgo Biloba seems to be a simple, safe, inexpensive and fairly effective therapy for vitiligo. It is mostly effective in halting the progression of the disease. It can also sp...