New
This sends yet another message to Big Pharma that vitiligo has a strong, well organized community of patients looking for effective treatments. And it will soon be joining forces with another group - the Vitiligo Working Group - at the annual AAD meeting in San Diego.
Enjoy a special price of $0.99 (reg. $9.99) with Kindle Matchbook: https://goo.gl/ZR2Qae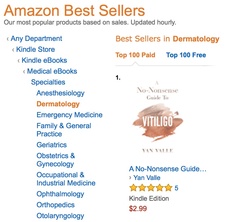 Can chemicals cause vitiligo?

It's important to remember there are multiple factors involved in vitiligo onset, including genetic predisposition, living and working environments, and exposure to certain chem...