This sends yet another message to Big Pharma that vitiligo has a strong, well organized community of patients looking for effective treatments. And it will soon be joining forces with another group - the Vitiligo Working Group - at the annual AAD meeting in San Diego.
Enjoy a special price of $0.99 (reg. $9.99) with Kindle Matchbook: https://goo.gl/ZR2Qae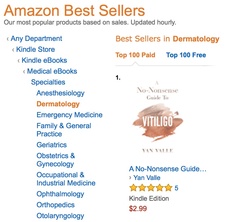 How can I explain vitiligo to my children?

Vitiligo can be puzzling for a child because a person who has it isn't "ill" in a common sense.  To choose the right words to explain vitiligo diagnosis to a child, first consi...

What is vitiligo?

Vitiligo (pronounced vit-ill-EYE-go) is a relatively common skin disease characterized by smooth, white, painless spots or patches on various parts of the body and hairs above i...