New
This sends yet another message to Big Pharma that vitiligo has a strong, well organized community of patients looking for effective treatments. And it will soon be joining forces with another group - the Vitiligo Working Group - at the annual AAD meeting in San Diego.
Enjoy a special price of $0.99 (reg. $9.99) with Kindle Matchbook: https://goo.gl/ZR2Qae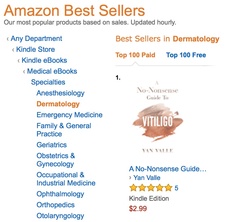 Are there any famous people with vitiligo?

Many celebrities have dealt with vitiligo while remaining in the public eye, maintaining a positive outlook, and having a successful career. Here are a few courageous famous peo...

How can I cure vitiligo?

There is no cure for vitiligo, but there are a number of effective treatment options that can be discussed with your GP or dermatologist. The aim of treatment is to stop new pat...

Who is prone to vitiligo?

Scientists know that some people are genetically predisposed to a specific group of autoimmune diseases – including generalized vitiligo – but do not know who and why.It doesn't...