New
We have finally obtained an official copy of the H.R.3578 A Bill to amend the Public Health Service Act to provide for the control of vitiligo first introduced to 95th Congress by Rep. Mitchell of Maryland et all on February 16, 1977. The Act was cited as the 'National Vitiligo Control Act.'
This bill to amend the Public Health Act began as H.R. 5465 on March 20, 1975 (not enacted), reintroduced as H.R. 3578 (not passed), but referred to committee as H.R. 3520 all introduced by Representative Parrin Mitchell in the 94th & 95th Congress.
Download your copy.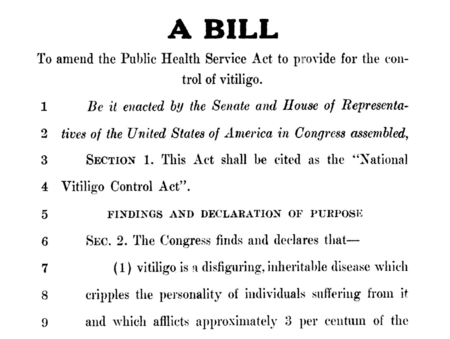 Is there a special diet for vitiligo?

In short, no.  Some people find that certain foods may worsen their vitiligo symptoms or that others may improve their skin condition. We found no scientific evidence that a sp...

How long does it take to treat vitiligo?

Treatment results will vary by person and type of vitiligo. The rule of thumb is that you will need to allow at least 3 to 6 months before you begin to see results from any trea...