New
We have finally obtained an official copy of the H.R.3578 A Bill to amend the Public Health Service Act to provide for the control of vitiligo first introduced to 95th Congress by Rep. Mitchell of Maryland et all on February 16, 1977. The Act was cited as the 'National Vitiligo Control Act.'
This bill to amend the Public Health Act began as H.R. 5465 on March 20, 1975 (not enacted), reintroduced as H.R. 3578 (not passed), but referred to committee as H.R. 3520 all introduced by Representative Parrin Mitchell in the 94th & 95th Congress.
Download your copy.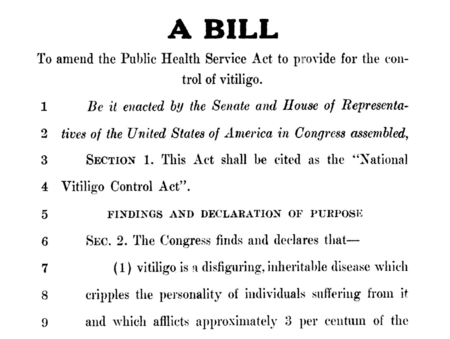 Shall I take vitamin D for my vitiligo?

In Brief Vitamin D plays a central role in the prevention of different inflammatory and chronic diseases. Consuming 1,000–4,000 IU (25–100 mcg) of vitamin D3 daily should be id...

What causes vitiligo?

Surprisingly, the causes of vitiligo are yet to be precisely established. Researchers know the cause is pre-wired in your genes, just waiting for a bad luck moment. In about hal...

Is it Bitiligo? Vitaligo? Veteligo?

There are so many different ways that people try and spell or even pronounce Vitiligo.  Here are some common mis-spellings: bitiligo, vitigo, vitaligo, vitilago, vitiglio, vita...