New
As the World Vitiligo Day begins in the East, we receive first reports and photos from this global awareness campaign. In China, hundreds of vehement volunteers spread raise awareness for vitiligo in addition to 12 major hospitals receiving many patients. In Italy, 15 Dermatology Departments are already opened for free consultation with vitiligo patients, and Marie Claire Magazine published a special article on vitiligo.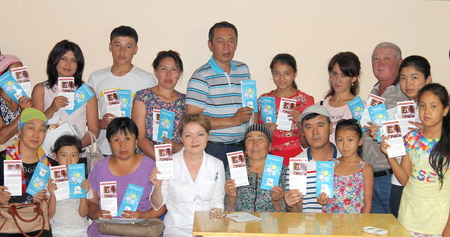 This photo received from celebrations in Shymkent (Kazakhstan) by Dr. Aliya Kassymkhanova and colleagues at the 'Vitiligo School' meeting. In Brazil, a team of Prof. Cunha and 50+ volunteers are getting ready to join the action in just a few hours.
Can Ayurveda help with vitiligo?

People have used herbs and natural remedies to treat skin conditions for centuries. Vitiligo is an auto-immune condition that causes white patches of skin to develop and expand...

How can I cure vitiligo?

There is no cure for vitiligo, but there are a number of effective treatment options that can be discussed with your GP or dermatologist. The aim of treatment is to stop new pat...

How can I explain vitiligo to my children?

Vitiligo can be puzzling for a child because a person who has it isn't "ill" in a common sense.  To choose the right words to explain vitiligo diagnosis to a child, first consi...