New
Charles Hard Townes, a professor emeritus of physics at the University of California, Berkeley, who shared the 1964 Nobel Prize in Physics for invention of the laser and subsequently pioneered the entirely new industry, died on Jan. 27. 
Townes was 35 in the spring of 1951 when he found the solution to a longstanding problem, how to create a pure beam of short-wavelength, high-frequency light. That revelation not much different from a religious revelation, Townes believed eventually led to the first laser, a now ubiquitous device common in science, telecommunication, entertainment and medicine, including phototherapy for vitiligo. Throughout his life, Townes maintained an interest in the intersection of science and religion.
VR Foundation had the privilege of inviting Charles Townes to the Roundtable On Vitiligo in Kitzbuhel, Austria in 2012, watch the video here . We wish his family our sincerest condolences at this time of loss, and we hold Professor Townes, one of the greatest scientists of the twentieth century, in fond and respectful memory.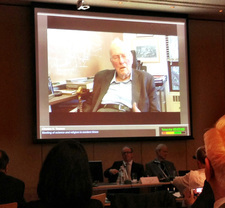 Can Ayurveda help with vitiligo?

People have used herbs and natural remedies to treat skin conditions for centuries. Vitiligo is an auto-immune condition that causes white patches of skin to develop and expand...

Will it spread?

Vitiligo activity may vary considerably from person to person. The natural course of vitiligo is truly unpredictable but usually progressive. The most recent VALIANT study on v...

What causes vitiligo?

Surprisingly, the causes of vitiligo are yet to be precisely established. Researchers know the cause is pre-wired in your genes, just waiting for a bad luck moment. In about hal...