New
Wrapping up a looong weekend at the annual congress of American Academy of Dermatology in Washington DC.
More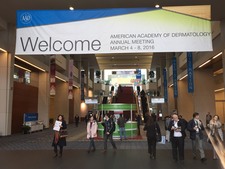 Can Ginkgo Biloba help with vitiligo?

Ginkgo Biloba seems to be a simple, safe, inexpensive and fairly effective therapy for vitiligo. It is mostly effective in halting the progression of the disease. It can also sp...

Isn't it just a cosmetic disorder?

Contrary to popular belief, vitiligo is not a cosmetic disorder but a systemic disease affecting the largest body organ and other vital systems, with multiple comorbidities. Fo...

Does halo nevi affect vitiligo development?

Halo nevi — nevi with an depigmented circle around it, usually on the trunk — are about 10x more common in vitiligo patients than in the general population, especially in childr...