New
We'll answer 10 most frequently asked questions about vitiligo today. Join Facebook Live event at https://www.facebook.com/events/1947122275302199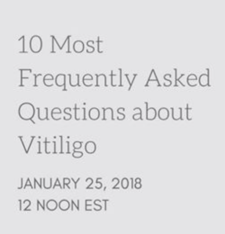 Can Ayurveda help with vitiligo?

People have used herbs and natural remedies to treat skin conditions for centuries. Vitiligo is an auto-immune condition that causes white patches of skin to develop and expand...

How long does it take to treat vitiligo?

Treatment results will vary by person and type of vitiligo. The rule of thumb is that you will need to allow at least 3 to 6 months before you begin to see results from any trea...

Is there a special diet for vitiligo?

In short, no.  Some people find that certain foods may worsen their vitiligo symptoms or that others may improve their skin condition. We found no scientific evidence that a sp...