New
We have tentatively scheduled seven international Master Classes on Vitiligo And Pigmentary Disorders in 2016: Jakarta (Indonesia), Manaus (Brazil), Prague (Czech Republic), Goa (India), Shymkent (Kazakhstan), Batumi (Georgia) and Rome (Italy). Details
In the meantime, check out reports and photos from our most recent master classes in Tel Aviv and New York.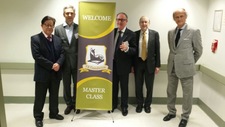 Who is prone to vitiligo?

Scientists know that some people are genetically predisposed to a specific group of autoimmune diseases – including generalized vitiligo – but do not know who and why.It doesn't...