New
We have tentatively scheduled seven international Master Classes on Vitiligo And Pigmentary Disorders in 2016: Jakarta (Indonesia), Manaus (Brazil), Prague (Czech Republic), Goa (India), Shymkent (Kazakhstan), Batumi (Georgia) and Rome (Italy). Details
In the meantime, check out reports and photos from our most recent master classes in Tel Aviv and New York.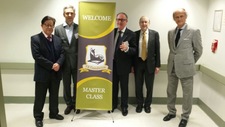 What tests should be done?

A well-trained dermatologist should be able to diagnose vitiligo and distinguish it from contact leukoderma or more than twenty other conditions with similar skin appearance bas...

Are there any famous people with vitiligo?

Many celebrities have dealt with vitiligo while remaining in the public eye, maintaining a positive outlook, and having a successful career. Here are a few courageous famous peo...