New
Prof. Lotti has delivered lecture on 'The role of H2O2 in vitiligo: new data and new treatments' at the presentation of Vitilase, a new product for vitiligo in Jordan. Based on highly active pseudocatalase, this cream helps induce regimentation in conjunction with sunlight exposure or NB-UVB. The retail cost of one tube (65gram) in Jordan is around $65. Shipping costs of up to 4 tubes range between $15 to $27 depending on the destination.
The meeting was organized by the Philadelphia Pharmaceuticals under the leadership of Prof. Dr. Medhat Abdel Malek, MD and attended by over 250 dermatologists coming from 11 countries of the Middle East.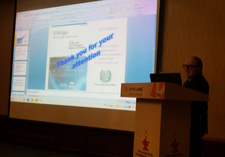 Is vitiligo contagious?

Vitiligo is NOT contagious. It cannot be passed on or caught from touching someone with vitiligo, shaking hands, swimming in the same pool, sharing towels, sitting next to someo...

What's better: laser or phototherapy?

In a recent study researchers assessed effect and safety of different laser and phototherapy treatments, such as excimer laser/light, narrowband UVB, UVA and PUVA. No significa...