New
Prof. Lotti has delivered lecture on 'The role of H2O2 in vitiligo: new data and new treatments' at the presentation of Vitilase, a new product for vitiligo in Jordan. Based on highly active pseudocatalase, this cream helps induce regimentation in conjunction with sunlight exposure or NB-UVB. The retail cost of one tube (65gram) in Jordan is around $65. Shipping costs of up to 4 tubes range between $15 to $27 depending on the destination.
The meeting was organized by the Philadelphia Pharmaceuticals under the leadership of Prof. Dr. Medhat Abdel Malek, MD and attended by over 250 dermatologists coming from 11 countries of the Middle East.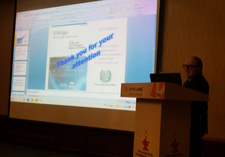 How can I explain vitiligo to my children?

Vitiligo can be puzzling for a child because a person who has it isn't "ill" in a common sense.  To choose the right words to explain vitiligo diagnosis to a child, first consi...

What tests should be done?

A well-trained dermatologist should be able to diagnose vitiligo and distinguish it from contact leukoderma or more than twenty other conditions with similar skin appearance bas...

Can chemicals cause vitiligo?

It's important to remember there are multiple factors involved in vitiligo onset, including genetic predisposition, living and working environments, and exposure to certain chem...