New
Last month we introduced the Quick Poll feature. These monthly poll questions will focus on important topic for vitiligo research and therapy development. The results from each poll will be available with the launch of subsequent poll and can be viewed at any time on the Quick Poll page.
In our first poll we asked visitors 'Which factors contributed to your vitiligo onset?' We received 51 responses during a 23 day period. 
Emotional Distress was the leading factor with 37% of the votes, followed by the Physical Skin Damage (22%), Sunburn (14%), Pregnancy or Childbirth (10%), Medication or Vaccination (6%), Hazardous Materials (6%).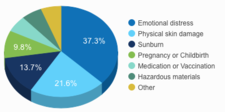 Is there a special diet for vitiligo?

In short, no.  Some people find that certain foods may worsen their vitiligo symptoms or that others may improve their skin condition. We found no scientific evidence that a sp...

How can I explain vitiligo to my children?

Vitiligo can be puzzling for a child because a person who has it isn't "ill" in a common sense.  To choose the right words to explain vitiligo diagnosis to a child, first consi...