New
Our 10th Master Class was held under the presidency of Professor Xing Hua Gao, MD, Chairman and Professor of Department of Dermatology, No.1 Hospital of China Medical University. European and Chinese guidelines were reviewed in fine detail. Unlike the straightforward European treatment approach, the Chinese consensus pay special attention to all factors that may influence the disease activity, treatment outcome and overall health and wellbeing of the patient. Read more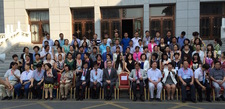 Is there a special diet for vitiligo?

We have specifically looked into claims that some food supplements or special diet may ease symptoms of vitiligo, or completely reverse it, and found no firm scientific evidence...

Isn't it just a cosmetic disorder?

Contrary to popular belief, vitiligo is not a cosmetic disorder but a systemic disease affecting the largest body organ and other vital systems. For more than 1.6 million peop...

Who is prone to vitiligo?

Scientists know that some people are genetically predisposed to a specific group of autoimmune diseases – including generalized vitiligo – but do not know who and why.It doesn't...