New
VRF Chair of the Board Prof. Torello Lotti, MD won the Educational Project Award & Prize at IMCAS 2014 for the project 'World Vitiligo Day.' IMCAS started in 1994, in Paris, France, as a congress dedicated to plastic surgeons and dermatologists. It has become one of the most important international courses dedicated to Aging Skin Treatments since then. This year it welcomed more than 4,000 participants from 85 countries.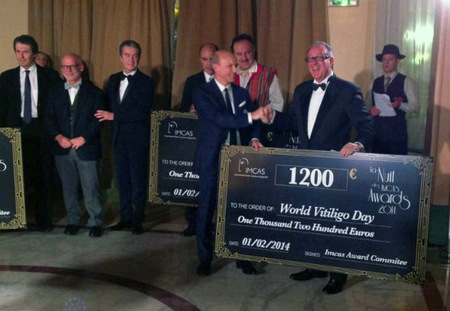 Can a gluten-free diet help with vitiligo?

It's very unlikely. We have specifically looked into claims that gluten-free diet may ease symptoms of vitiligo, or completely reverse it, and found no firm scientific evidence ...

How long does it take to treat vitiligo?

Treatment results will vary by person and type of vitiligo. The rule of thumb is that you will need to allow at least 3 to 6 months before you begin to see results from any trea...

How can I cure vitiligo?

There is no cure for vitiligo, but there are a number of effective treatment options that can be discussed with your GP or dermatologist. The aim of treatment is to stop new pat...