New
VRF Chair of the Board Prof. Torello Lotti, MD won the Educational Project Award & Prize at IMCAS 2014 for the project 'World Vitiligo Day.' IMCAS started in 1994, in Paris, France, as a congress dedicated to plastic surgeons and dermatologists. It has become one of the most important international courses dedicated to Aging Skin Treatments since then. This year it welcomed more than 4,000 participants from 85 countries.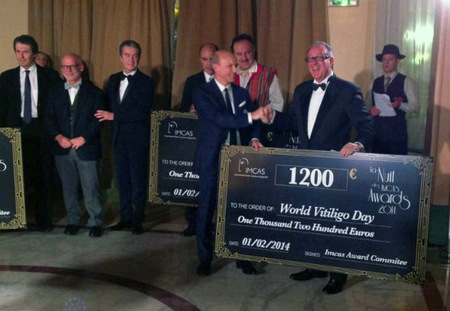 Shall I take vitamin D for my vitiligo?

In Brief Vitamin D plays a central role in the prevention of different inflammatory and chronic diseases. Consuming 1,000–4,000 IU (25–100 mcg) of vitamin D3 daily should be id...

How can I explain vitiligo to my children?

Vitiligo can be puzzling for a child because a person who has it isn't "ill" in a common sense.  To choose the right words to explain vitiligo diagnosis to a child, first consi...

Can Ayurveda help with vitiligo?

People have used herbs and natural remedies to treat skin conditions for centuries. Vitiligo is an auto-immune condition that causes white patches of skin to develop and expand...