New
The World Vitiligo Day is observed annually on June 25 since 2011. The campaign was born from the determination of non-profit organizations VR Foundation (USA) and VITSAF (Nigeria), and their supporters across the world, to bring this 'forgotten' disease into the public eye, and to shine a light on challenges faced by those suffering from vitiligo.
With each passing year the World Vitiligo Day grows bigger and bolder. And with it, recognition of vitiligo grows, particularly since Winnie Harlow, supermodel and vitiligan, walked the Victoria's Secret Fashion show – one of the hottest fashion tickets on the planet – last fall. What's more, six U.S. State governors and numerous city mayors have now declared June 'Vitiligo Awareness Month.'
Why World Vitiligo Day is Important
More than 100 million people around the world suffer from vitiligo. The campaign helps disseminate important information that can help ease the pain of those living with vitiligo.
Through events such as runs and walks, campaign brings together vitiligo sufferers along with their friends and family to show demand for specialized treatments. The day is also marked by educational seminars designed to share the latest scientific and medical research.
Through outreach to potential supporters, campaign raises funds for local support groups, medical centers and academic researchers.
What and Where
The international headquarters are set in beautiful Hanoi, Vietnam this year. The Honorary Chairman of the World Vitiligo Day 2019 is Prof. Nguyen Van Thuong, MD. The international theme of this year is "The Quality of Life of a Vitiligo Patient." A panel of renowned speakers will cover a whole range of topics in vitiligo: from novel herbal treatments by Prof. Torello Lotti to Viruses and Superantigens by Prof. Michael Tirant, and all the way to surgical therapies by Prof. Davinder Parsad. Prof. Yan Valle will present the history of WVD campaign and discuss socio-economic burden of vitiligo. As a part of celebrations, National Dermatological University Hospital of Hanoi, other hospitals and clinics across the country will host special events for vitiligo patients. A great deal of support comes from Vietnamese Government. Details and Program
US-based members of the vitiligo community are invited to meet in Houston, TX, for a conference organized by Houston Vitiligo Awareness Movement, led by its founder Diane Tribitt. The national theme is "The Mental and Medical Journey of Living with Vitiligo - The Journey Starts with ME!" The conference sessions will cover various subjects, such as: New Research Discoveries; Treatment of Vitiligo; Coping / After the Diagnosis; Addressing the Physical, Social, Emotional, and Spiritual Wellbeing of Children with Vitiligo, by well-known speakers including Dr. Amit Pandya, Dr. Alanna Bree, Dr. Pearl Grimes, Dr. Lisa Schuster and Dr. John Harris. Details and Program
How to Observe the World Vitiligo Day
Sign petition and share your story on 25June.org, official Facebook page or organize your own online group. Human stories are the best way to spread awareness and help the public better understand vitiligo.
Take a walk. Check with your local vitiligo support group for runs or walks that take place on or around June 25. If there's no local group or event in your area yet, organize one! Few T-shirts and lots of petition leafleats are on us!
Participate in a conference in Houston (USA) on June 21-23 or in Hanoi (Vietnam) on June 24-25, or tune in for a live broadcast.
Donate $25 to the local support group of your choice or VR Foundation to expand the campaign in 2020!
Support for the event is huge and well over 500 thousand people from across the world have now signed a petition that asks the UN Secretary General to officially designate June 25th as World Vitiligo Day. However, there is still much work to be done. Campaign organizers aim to persuade major healthcare providers and Big Pharma to give vitiligo the attention it deserves and develop effective treatments for this disease.
A special Thank You note to our supporters: The World Vitiligo Day 2019 International conference is sponsored by Dr Michaels Vitilinex (for Vitiligo) by Dr Michaels Skin Clinics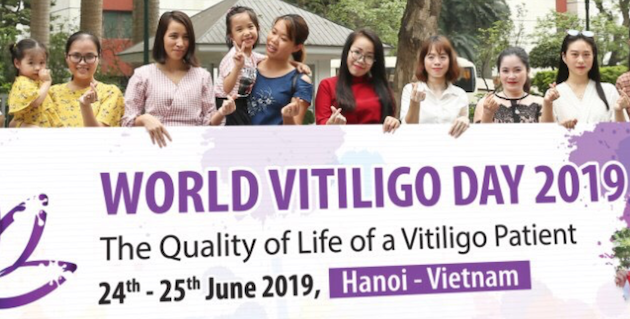 How long does it take to treat vitiligo?

Treatment results will vary by person and type of vitiligo. The rule of thumb is that you will need to allow at least 3 to 6 months before you begin to see results from any trea...

Can a gluten-free diet help with vitiligo?

It's very unlikely. We have specifically looked into claims that gluten-free diet may ease symptoms of vitiligo, or completely reverse it, and found no firm scientific evidence ...

Can Ginkgo Biloba help with vitiligo?

Ginkgo Biloba seems to be a simple, safe, inexpensive and fairly effective therapy for vitiligo. It is mostly effective in halting the progression of the disease. It can also sp...