New
Morning show at WJBK Fox 2 Detroit on June 25, 2013. Lee Thomas, Dr. Marsha Henderson and Yan Valle are talking live about World Vitiligo Day campaign.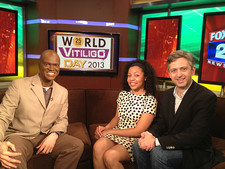 Read the full story
Shall I take vitamin D for my vitiligo?

In Brief Vitamin D plays a central role in the prevention of different inflammatory and chronic diseases. Consuming 1,000–4,000 IU (25–100 mcg) of vitamin D3 daily should be id...

Will it spread?

Vitiligo activity may vary considerably from person to person. In a good number of patients the disease goes on for 3-4 years and then it settles down, with one or two stubborn...

Are there any famous people with vitiligo?

Many celebrities have dealt with vitiligo while remaining in the public eye, maintaining a positive outlook, and having a successful career. Here are a few courageous famous peo...