New
As of today, we have run out of the World Vitiligo Day T-shrits. Nearly 1,500 donated T-ees were mailed out to vitiligo support groups around the world in the last three weeks. 
But don't worry, folks: you can get your own T-shirts with this inspirational logo. Just download the original graphics files from here (Adobe PDF or Corel CRD ) and bring them to a print shop nearby or online, or even better - give them a link to our website and they would know what to do!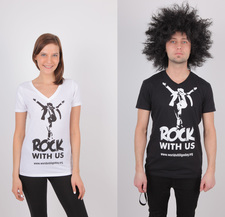 How long does it take to treat vitiligo?

Treatment results will vary by person and type of vitiligo. The rule of thumb is that you will need to allow at least 3 to 6 months before you begin to see results from any trea...

Can Ginkgo Biloba help with vitiligo?

Ginkgo Biloba seems to be a simple, safe, inexpensive and fairly effective therapy for vitiligo. It is mostly effective in halting the progression of the disease. It can also sp...

Who is prone to vitiligo?

Scientists know that some people are genetically predisposed to a specific group of autoimmune diseases – including generalized vitiligo – but do not know who and why.It doesn't...