New
As of today, we have run out of the World Vitiligo Day T-shrits. Nearly 1,500 donated T-ees were mailed out to vitiligo support groups around the world in the last three weeks. 
But don't worry, folks: you can get your own T-shirts with this inspirational logo. Just download the original graphics files from here (Adobe PDF or Corel CRD ) and bring them to a print shop nearby or online, or even better - give them a link to our website and they would know what to do!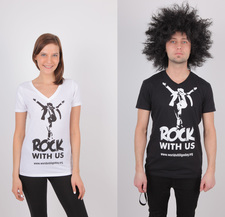 Can Ginkgo Biloba help with vitiligo?

Ginkgo Biloba seems to be a simple, safe, inexpensive and fairly effective therapy for vitiligo. It is mostly effective in halting the progression of the disease. It can also sp...

Shall I take vitamin D for my vitiligo?

In Brief Vitamin D plays a central role in the prevention of different inflammatory and chronic diseases. Consuming 1,000–4,000 IU (25–100 mcg) of vitamin D3 daily should be id...

Is it Bitiligo? Vitaligo? Veteligo?

There are so many different ways that people try and spell or even pronounce Vitiligo.  Here are some common mis-spellings: bitiligo, vitigo, vitaligo, vitilago, vitiglio, vita...