New
Makeup. One of the constant things that has been around for years and is not going anywhere. Makeup can be used for so many different things. It is art, it is self expression, it is beauty, and it is a mask.

What's the line between using makeup to enhance and using makeup to hide?

For those with vitiligo, it is a choice that needs to be made. More recently - thanks to an iconic supermodel Winnie Harlow - there have been movements about embracing yourself and walking around au naturele. However, realistically, the average "no makeup look" uses around 8-12 products.

It's a great message to tell people to love themselves. In the world of white patches, it is important to feel beautiful, but for some, that means covering up and that's ok. If someone chooses to cover their spots, it doesn't mean they are "hiding", it means they are making the choice that makes them feel the most beautiful.

The most important thing is comfort. Adults and children alike should never have to be embarrassed to walk outside or worrying about what others might think or say. For some, confidence is all you need. For others, a simple product can be the difference between head down with a frown or shoulders back and a big wide smile!

With the vitiligo awareness on the rise, products have been popping up all over and there are so many options to choose from. Go and research the different options that are out there. Learn how to apply it, and most importantly learn that you are beautiful with and without it. If you don't have opportunity to buy and compare every one of dozens of vitiligo camouflage products available out there, the Vitiligo Association of Australia will do so soon for you.

Here we'll shine some light on three most popular ones: CoverGirl, Microskin and Zanderm.

CoverGirl
They have been around for years. A high quality, affordable drugstore makeup with loads of products used by all different people. Recently CoverGirl launched their TruBlend Foundation with a model who had vitiligo. She covered her spots flawlessly and looked radiant.

Makeup companies have started using vitiligo models and showing how a full coverage makeup (foundation or concealer) can be used to cover the depigmented skin. These products are great for a quick fix, a temporary solution. For many, this is the simplest option because they wear makeup daily and it's just the extra step of applying an extra product on the patchy parts. For others, they don't know where to begin, some people have never used makeup and don't know how to apply it properly. Others, don't feel comfortable with the product on their skin. It can be heavy and leave a residue. It can be transferred onto clothing or objects or other people's skin, not to mention that it comes off when washed!

Microskin
For those who don't like the generic makeup, there are companies that specialize in Vitiligo Makeup. Microskin created a product that is like a second skin. They create a custom shade which targets color correction for skin conditions. They have formulated their product so that it is not a cream, but a liquid based formula that is airbrushed to the skin which does not have the appearance of makeup. They did this to help the people who don't feel comfortable wearing makeup. Addressing the other issues, Microskin made their product water resistant and transfer proof. The custom shade is the area where it gets tricky. Typically a consumer would go in for a consultation where they create a custom shade for you and then teach you how to apply it properly to the skin. For people who are not in the New York area, Microskin offers a starter kit with several color options and then once you have your color you can order your unique shade. The application gets tricky too. The small coverage areas are applied with a specialized stipple sponge while the larger areas are actually airbrushed onto the skin with a specialized machine. You need to reapply every 1-2 days depending on how active you are and how often you get the covered areas wet. Another factor is while the results look absolutely amazing, you get what you pay for. MicroSkin starter kit retails for over $200. Not everyone is equipped to spend that kind of money for a coverup product.

Zanderm
Zanderm is a camouflage product unlike any other on the market. Everyone can color in the lines past kindergarten. With this in mind Zanderm put their product in a marker pen. One simply uncaps the marker and colors in their white spots. With three different size applicators Zanderm makes it easy to fill in small patches and camouflage large areas. Once applied the user can be confident all day; the camouflage is smudge resistant and transfer proof. The color fades over time and can be layered if a darker application is needed (tanned skin in the summer).

Zanderm offers the help of their cosmetic specialist who is available from wherever one is, no need to travel in for a consult. Simply email her a photo of your skin and she will recommend the best match for you. Still unsure of which shade will best match? Zanderm offers inexpensive "color testers". With these one-time use applicators you can see how different shades will look on your skin. Zanderm is affordable with the testers being under $5 and the product being under $50. This is better than a quick fix, it's not a temporary solution. It's a staple item that every person; whether it be an adult or a child, a man or a woman, can be comfortable using. Essentially, Zanderm becomes just like the rest of the pigmented skin. It's a life changer.

Wrapping up: For some, drugstore makeup products are the answer: affordable, easy, quick. For others this option just wouldn't work: it's not waterproof, it transfers, they don't know how to apply or don't feel comfortable wearing makeup.

For some, Microskin is the solution. Their product fixed the issues that the makeup had - it doesn't look like makeup, actually was created to conceal skin issues, is water resistant, doesn't transfer, and has the perfect color to match any skin tone. For others, this perfect solution is too complicated to apply and is simply out of their price range!

Zanderm is easy to apply, cost effective, and smudge-proof. With 14 shades, you are sure to find a color that camouflages well and lasts for days.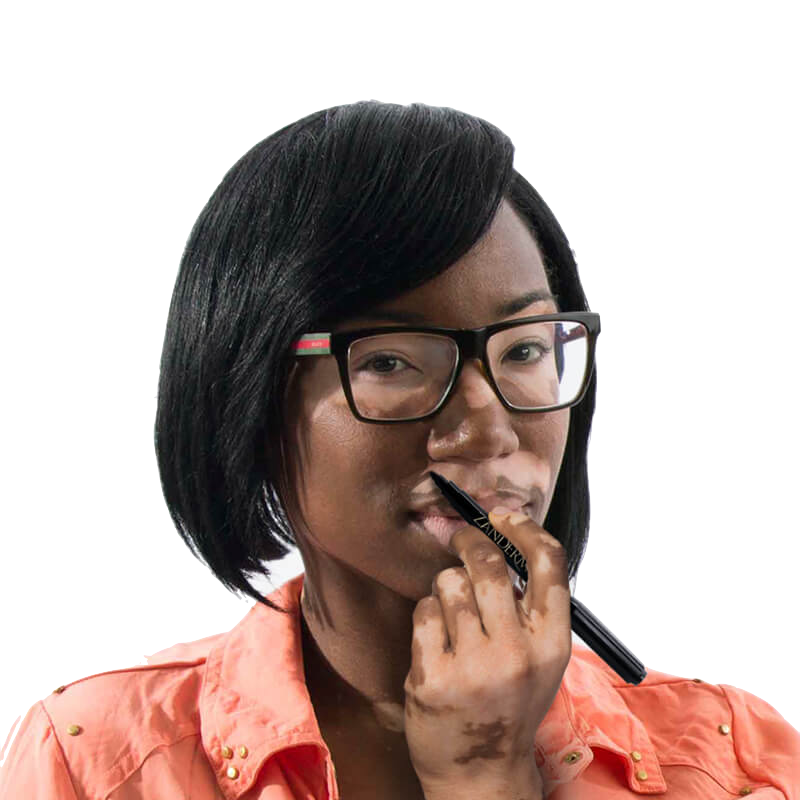 Suggested reading: 9 Vitiligo Transformations That Prove The Power Of Makeup
Tons of women are proud of their patches (like model Winnie Harlow), but they — like everyone else! — sometimes want to experiment with makeup. So if you're looking for inspo, these 9 vitiligo makeup experts are total pros at getting that ~flawless~ coverage. Continue reading and watch tutorials at Buzzfeed
P.S. If you haven't done so already, why not sign up to our monthly newsletter now, and never miss important stuff like this one?