New
Over 170 participants have attended this key regional meeting for the latest achievements in the field of pigmentary disorders of the skin. A practical demonstration of melanocyte transfer was given by Prof. Davinder Parsad, read more.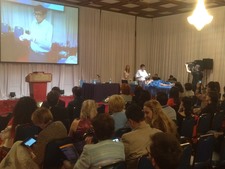 How long does it take to treat vitiligo?

Treatment results will vary by person and type of vitiligo. The rule of thumb is that you will need to allow at least 3 to 6 months before you begin to see results from any trea...

Isn't it just a cosmetic disorder?

Contrary to popular belief, vitiligo is not a cosmetic disorder but a systemic disease affecting the largest body organ and other vital systems, with multiple comorbidities. Fo...

Can Ayurveda help with vitiligo?

People have used herbs and natural remedies to treat skin conditions for centuries. Vitiligo is an auto-immune condition that causes white patches of skin to develop and expand...