New
Over 170 participants have attended this key regional meeting for the latest achievements in the field of pigmentary disorders of the skin. A practical demonstration of melanocyte transfer was given by Prof. Davinder Parsad, read more.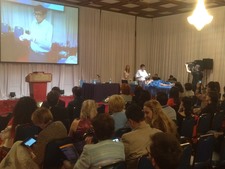 Is it Bitiligo? Vitaligo? Veteligo?

There are so many different ways that people try and spell or even pronounce Vitiligo.  Here are some common mis-spellings: bitiligo, vitigo, vitaligo, vitilago, vitiglio, vita...

Are there any famous people with vitiligo?

Many celebrities have dealt with vitiligo while remaining in the public eye, maintaining a positive outlook, and having a successful career. Here are a few courageous famous peo...