New
Happy Halloween! Have FUN tonight by getting visual with vitiligo, like Tayma Adra in the photo.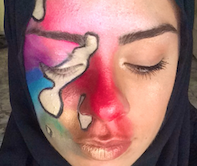 How long does it take to treat vitiligo?

Treatment results will vary by person and type of vitiligo. The rule of thumb is that you will need to allow at least 3 to 6 months before you begin to see results from any trea...

What causes vitiligo?

Surprisingly, the causes of vitiligo are yet to be precisely established. Researchers know the cause is pre-wired in your genes, just waiting for a bad luck moment. In about hal...

Will it spread?

Vitiligo activity may vary considerably from person to person. In a good number of patients the disease goes on for 3-4 years and then it settles down, with one or two stubborn...