New
The COVID-19 mRNA vaccines not only provide remarkable protection but also have been characterized by an overall safe and well-tolerated side effect profile. To date, several registry reviews and case series have documented cutaneous vaccine reactions, most commonly local injection reactions, coined "COVID Arm".
Dr. Kaminetsky and Dr. Rudikoff report the first case of vitiligo following vaccination with the Moderna vaccine. A 61-year-old woman presented to the clinic three days after her second dose of the Moderna (mRNA-1273) COVID-19 vaccine. Several days after her first dose, the patient noted very faint hypopigmented macules on her anterior neck, but she did not seek treatment. After her second dose, these macules progressed in size and degree of hypopigmentation, and she developed new and more widespread macules on other parts of her body. The patient reported no personal nor family history of vitiligo, autoimmune disease, and no other pigmentary disorders. She had no comorbid health conditions, nor took any medications. No treatment had been attempted prior to the presentation. Examination revealed Fitzpatrick type V skin with widespread depigmented macules on the face, neck, chest, and abdomen. She was prescribed a topical calcineurin inhibitor and started on a phototherapy regimen.
While no mechanistic explanation has been characterized that can definitively implicate the vaccine as the cause of the vitiligo, the temporal association and lack of a more plausible explanation seem to indicate that vaccine was, at least in part, contributory. There have been other instances of autoimmune phenomena manifesting after COVID-19 vaccination, such as immune thrombocytopenic purpura, a phenomenon in which platelets are targeted by the immune system for destruction, much like melanocytes in vitiligo. Given the potent immune response generated by the COVID-19 vaccines, one can speculate that other unintended alterations in a vaccinated individual's immune milieu can occur. Other cells, like melanocytes in the case of vitiligo, may become inadvertent targets of the antibodies and immune cells newly generated and galvanized by the vaccine.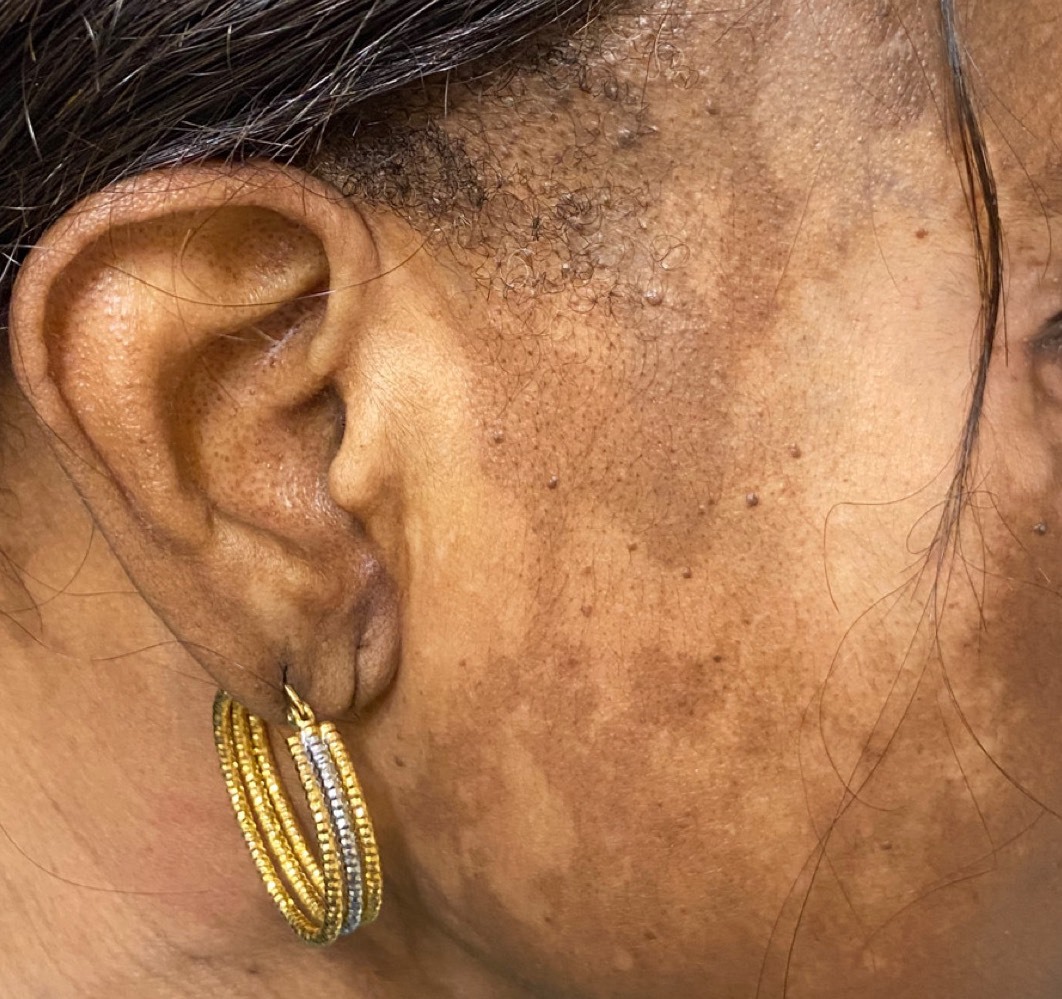 Is vitiligo contagious?

Vitiligo is NOT contagious. It cannot be passed on or caught from touching someone with vitiligo, shaking hands, swimming in the same pool, sharing towels, sitting next to someo...