New
This is an excellent opportunity for those interested in research and want their voices to be heard.
LaGrippe Research is conducting an online survey, and subsequent phone and live interviews with vitiligo patients to better understand a patient's journey. This will be in the form of a 5-day mobile online board starting on Monday, May 20th.
The company is looking to gain input and feedback on living with vitiligo from adults 18+, as well as teens ages 13-17 (parents can fill out questions for their teen).
Participants will spend about 15-20 minutes a day for five days sharing their stories and insights.
Those that qualify and participate will be compensated $250 as a Thank You for your time. This is not a clinical trial and at no point will anyone try to sell anything.
If you or your child are interested in participating, please follow the link to fill out a questionnaire. If you have any questions please contact Marcia at marcia@lagripperesearch.com or 224-475-8771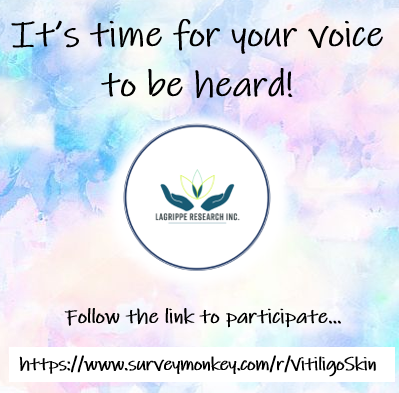 What's better: laser or phototherapy?

In a recent study researchers assessed effect and safety of different laser and phototherapy treatments, such as excimer laser/light, narrowband UVB, UVA and PUVA. No significa...

Are there any famous people with vitiligo?

Many celebrities have dealt with vitiligo while remaining in the public eye, maintaining a positive outlook, and having a successful career. Here are a few courageous famous peo...

Can chemicals cause vitiligo?

It's important to remember there are multiple factors involved in vitiligo onset, including genetic predisposition, living and working environments, and exposure to certain chem...