New
Adults often struggle with the right ways to convey complex things — like skin health — to children without scaring the living daylights out of them. Storybooks are an incredible tool to open up a conversation, present new concepts and help children consider different perspectives. So we compiled a short list of the children's books about vitiligo to help you and your little ones explore this topic together.
🇧🇷 Tati Santos de Oliveira, "A Menina Feita de Nuvens" ("The Girl Made Of Clouds" in English). This story is about Maria Luiza, a girl with special powers, — she is made of clouds. The book helps kids and adults in accepting themselves as vitiligo crusaders. ($15.95 paperback @ Amazon)
🇨🇿 Daniel Rušar, "Strakáč a Tíoni." The story is about a five-year-old boy with vitiligo who is searching for his strengths. It shows to children that it is okay to laugh at yourself to gain inner strength and make friends. Minimalistic storytelling should help small beings to easily relate to the character, his feelings, and his journey. (269 Kč paperback @ Publisher)
🇩🇪 Kirsten Elisabeth Zehler, "Giraffenmädchen." Kirsten's first novel revolves about Nike and Mio. These two young people struggle with their spots and suffer from severe bullying at school, but find love and peace at the most unusual place. ($9.38 paperback @ Amazon)
🇮🇳 Ravinder Singh, "Tell Me A Story." This book is a collection of heart melting and funny stories about experiences that have influenced the lives of different writers. The book perfectly portrays how we all suffer from our own insecurities but still are judgmental towards others. ($16.76 paperback, $14 Kindle @ Amazon)
🇺🇸 Theresa and Nakota Garee, "My Spots." This book for young readers is inspired by the first-hand experience of a eight-year-old Nakota Garee. Nakota imagines herself as one of the beautiful animals of the world that are known for their fancy spots. ($7.99 paperback, $2.99 Kindle @ Amazon)
🇺🇸 Phyllis Russell-Gilmer, "Skin Deep." The colorful illustrations and rhyming verse in this book make it a fun and enjoyable read for "children" of all ages, helping them fight ostracism and embarrasment, build self-esteem and inner beauty. ($15.95 paperback @ Amazon)
🇺🇸 Danielle Wheeler, "I've Got Spots!" Danielle's book and music video will empower those who have vitiligo, inform those who don't, and help everyone feel a little more comfortable in their own skin. ($25 @ online; song @ Amazon).
🇺🇸 Lori Mitchell, "Different Just Like Me" This is a sweet story about a girl named April who encounters a lot of different people while staying with her grandma. She realizes that they are different just like she is, which is what makes everyone so special and unique, like wild flowers. ($7.95 paperback @ Amazon)
🇺🇸 Kim Kirkland, "Vitiligo Doesn't Scare Me!" The book's main character, Chris, a young boy who has vitiligo learns important things about why his skin color has changed, and how he can take care of the patches on his skin. ($9.99 paperback @ Amazon)
🇺🇸 Ali Standish, "How to Disappear Completely." The book is about Emma who discovered her first white spot at her grandmother's funeral, who had been her best friend as well. An award-winning author seamlessly blends childhood wonder with the slow lessons of maturity. ($7.99 paperback, audiobook @ Amazon)
🇺🇸 Nakeyia Glover-Jones, "Super Spots." Over the summer, Nia found out she has vitiligo, but she does not let that stop her joy of becoming a second grader. She loves to create songs that rhyme in her head to help her deal with anything she is facing or must get done. ($12.99 paperback @ Amazon)
Do you know authors of other good books about vitiligo for children? Please send us your recommendations!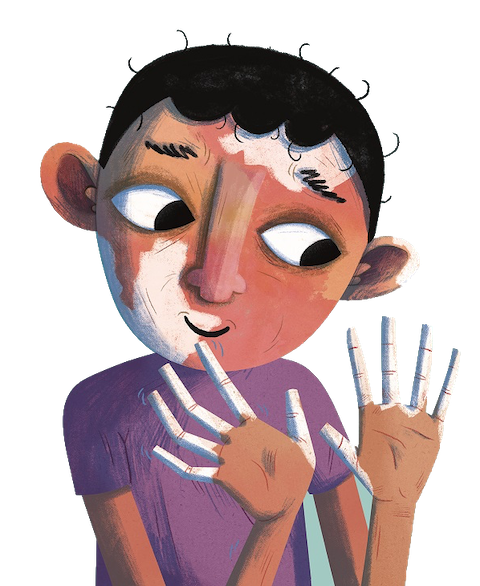 What is vitiligo?

 Vitiligo (pronounced vit-ill-EYE-go) is a generally unpredictable skin disease that causes a gradual loss of skin color and overlying hair on different parts of the body. Cont...

Are there any famous people with vitiligo?

Many celebrities have dealt with vitiligo while remaining in the public eye, maintaining a positive outlook, and having a successful career. Here are a few courageous famous peo...