New
Vitiligo community in USA is organizing a rally at the Capitol in Washington DC on June 25th. This idea came alive after successful rally at the Massachusetts State House organized by VITFriends from Boston last year. Check out the program here.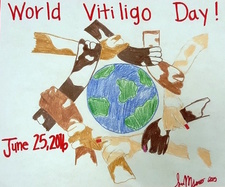 Can Ayurveda help with vitiligo?

People have used herbs and natural remedies to treat skin conditions for centuries. Vitiligo is an auto-immune condition that causes white patches of skin to develop and expand...

Who is prone to vitiligo?

Scientists know that some people are genetically predisposed to a specific group of autoimmune diseases – including generalized vitiligo – but do not know who and why.It doesn't...

What is vitiligo?

 Vitiligo (pronounced vit-ill-EYE-go) is a generally unpredictable skin disease that causes a gradual loss of skin color and overlying hair on different parts of the body. Cont...