New
Pope Francis, the spiritual leader of 1.2 billion Catholics, arrives in New York today to use its powers to heal the 'open wounds' of our planet, tainted with hatred, poverty, greed and pollution. His Holiness will speak at the United Nations on Friday morning, zip across the city to 9/11 Memorial, then on to Central Park where he will be greeted by 80,000 observers who won tickets at the lottery. His final event in the city is an evening Mass for 20,000 people just across the street from our office, at the Madison Square Garden. Due to extensive security measures around the building and anticipated traffic delays across the city, we'll be closed tomorrow and re-open on Monday, September 29.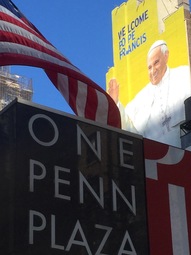 Are there any famous people with vitiligo?

Many celebrities have dealt with vitiligo while remaining in the public eye, maintaining a positive outlook, and having a successful career. Here are a few courageous famous peo...

What's better: laser or phototherapy?

In a recent study researchers assessed effect and safety of different laser and phototherapy treatments, such as excimer laser/light, narrowband UVB, UVA and PUVA. No significa...

How can I cure vitiligo?

There is no cure for vitiligo, but there are a number of effective treatment options that can be discussed with your GP or dermatologist. The aim of treatment is to stop new pat...