New
THIS IS A TEMPORARY PAGE FOR INTERNAL USE. Please DO NOT share or link this page.
A patient journey is an imaginary pathway a patient takes as one progresses through different phases of the disease: from awareness to diagnosis to management, including all the influences that can push patient towards or away from certain decisions.
From patient's perspective, such journey map is a bird's eye view of the pathway through the healthcare maze, with major milestones and rough travel times. It is not meant to be a comprehensive illustration of the disease management landscape or a precise navigational tool. An avid map explorer can view it critically and reflect on what is included as well as what is missing. But this map should be good enough for the majority of individuals to make an informed decision about their course of action.
It should be noted that patient's journey varies greatly per individual and per country. During the course of the disease, vitiligo patient visits different healthcare providers - from pediatrician to GP to mental health counselor - each with it's own "modus operandi." Among other distinctive markers of healthcare, sex differences may also translate to different patient journeys between men and women with vitiligo. But when striving for a better coordination of vitiligo patient care, it is vital to understand what a patient journey looks like in general.
We sought to examine each step of the vitiligo patient journey to better understand main patient pathways, timelines and care boundaries faced by vitiligo patients. Our first step was to identify major touch-points with the healthcare industry and create the basic outline.
This Vitiligo Patient Journey Map is designed to get patient onto the fast track lane for reaching one's ultimate destination, with a clear understanding of different disease management options and lifestyle choices. A better understanding of the patient perspective by dermatologists and pharmaceutical companies can lead to better patient adherence to treatment, improved treatment outcomes, higher quality of life and overall wellbeing.
This temporary page is not intended for public use.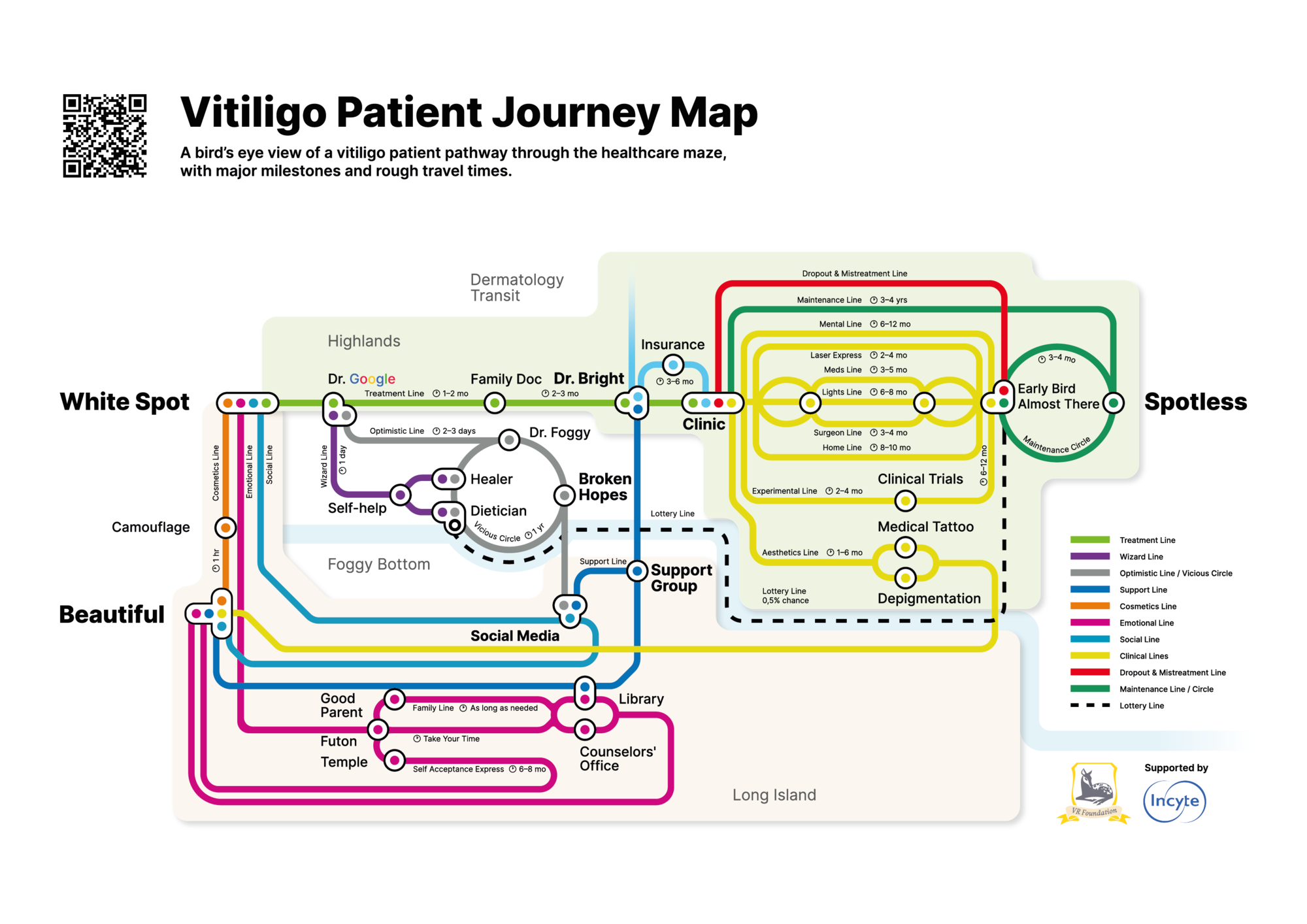 How long does it take to treat vitiligo?

Treatment results will vary by person and type of vitiligo. The rule of thumb is that you will need to allow at least 3 to 6 months before you begin to see results from any trea...

How can I explain vitiligo to my children?

Vitiligo can be puzzling for a child because a person who has it isn't "ill" in a common sense.  To choose the right words to explain vitiligo diagnosis to a child, first consi...